Vegan Chocolate Chip Cookies
Nutrition Information
| Nutrient name | Nutrient weight per serving |
| --- | --- |
| Total Fat | 5g |
| Total Carbohydrates | 19g |
| Sugars | 11g |
| Sodium | 90mg |
| Protein | 1g |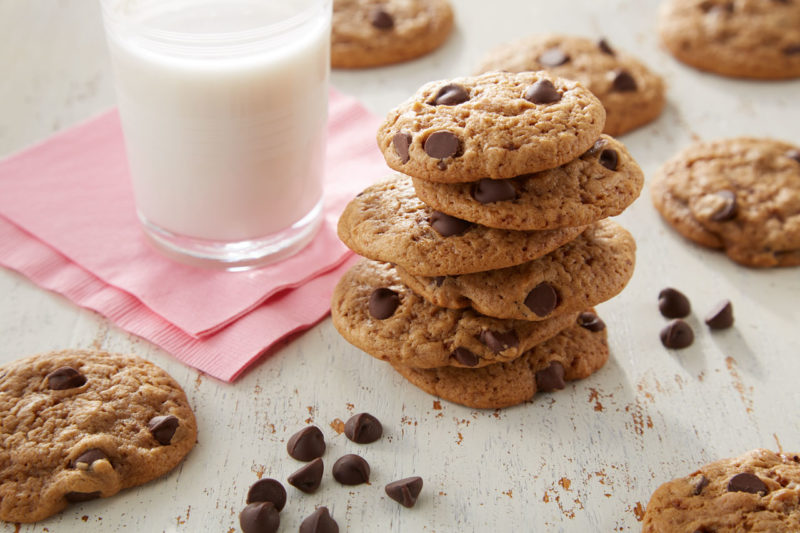 Vegan Chocolate Chip Cookies
Nutrition Information
| Nutrient name | Nutrient weight per serving |
| --- | --- |
| Total Fat | 5g |
| Total Carbohydrates | 19g |
| Sugars | 11g |
| Sodium | 90mg |
| Protein | 1g |
These vegan chocolate chip cookies have all the flavor and texture of mainstream chocolate chip cookies. You will have a hard time keeping the cookie jar full!
Ingredients
⅔ cup vegan buttery sticks or butter flavored vegetable shortening; melted
⅔ cup vegan white sugar
⅔ cup vegan brown coconut sugar
⅔ cup Almond Breeze Original almondmilk
1 tsp. baking powder 1 tsp. baking soda
2¾ cups all-purpose flour
1 cup vegan chocolate chips
Directions
Heat oven to 350°F. Line cookie sheets with parchment paper.
In large bowl, beat melted vegetable shortening, white sugar and brown sugar with electric mixer on medium speed until mixed. On low speed, mix in almondmilk. Add baking powder, baking soda and flour. Beat on low speed until mixed. Beat on medium speed until creamy. Stir in chocolate chips.
Spoon rounded tablespoonfuls 2 inches apart on cookie sheets. Bake 10 to 12 minutes or until golden brown. Cool on cookie sheets 2 minutes. Remove to cooling racks. If baking 2 cookie sheets at a time, rotate pans half way through baking.
Made With These Almond Breeze® Products
Looking For Almond Breeze®?