Butter Cupcakes with Grapefruit Buttercream
Nutrition Information
| Nutrient name | Nutrient weight per serving |
| --- | --- |
| Total Fat | 17.9g |
| Total Carbohydrates | 51.9g |
| Dietary Fiber | 0.5g |
| Sugars | 37.8g |
| Cholesterol | 79mg |
| Sodium | 121.2mg |
| Protein | 3.2g |
| Potassium | 54mg |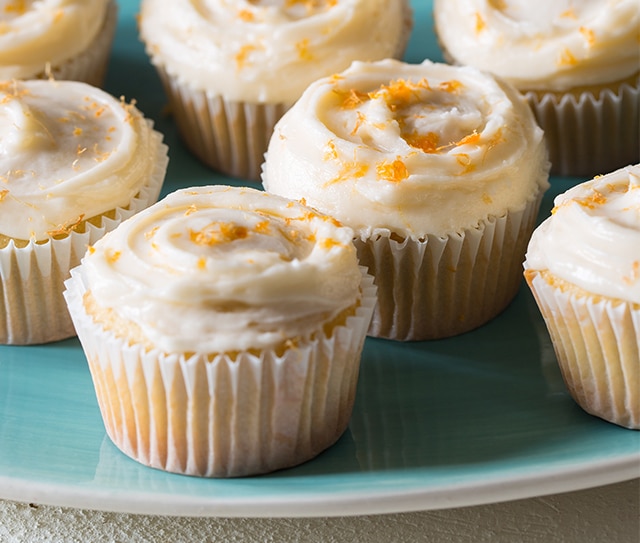 Butter Cupcakes with Grapefruit Buttercream
Nutrition Information
| Nutrient name | Nutrient weight per serving |
| --- | --- |
| Total Fat | 17.9g |
| Total Carbohydrates | 51.9g |
| Dietary Fiber | 0.5g |
| Sugars | 37.8g |
| Cholesterol | 79mg |
| Sodium | 121.2mg |
| Protein | 3.2g |
| Potassium | 54mg |
Ingredients
1/2 cup fresh pink grapefruit juice, lightly simmered for 8 minutes and cooled
1/2 cup (1 stick) unsalted butter, softened
4 1/2 to 5 cups sifted powdered sugar
Zest of 1 grapefruit
3 cups all purpose flour
2 teaspoons baking powder
1/2 teaspoon salt
1 cup (2 sticks) unsalted butter, softened
1 1/2 cups superfine sugar
4 large eggs, at room temperature
1 1/2 teaspoons vanilla extract
1/2 teaspoon almond extract
1 cup Unsweetened Almond Breeze® Almond Beverage
Grapefruit zest
Directions
Preheat oven to 350°F.
Buttercream: Place butter into a bowl of a stand mixer or into a large mixing bowl and cream. With the motor running, add 2 cups of powdered sugar, 1/2 cup at a time, to the butter until fully incorporated and smooth. Stir in the grapefruit juice until fully incorporated. Add the remaining powdered sugar, 1/2 cup at a time until you have a good buttercream consistency. Set aside until ready to use, (if using at a later time, store in an airtight container and re-whip before using for best consistency).
Cupcakes: Place flour, baking powder and salt in a mixing bowl and whisk together. Set aside.
Place butter and sugar in the bowl of a stand mixer or in a mixing bowl and cream together. Add eggs, one at a time, scraping down the sides of the bowl after each addition. Fold in the vanilla and almond extract.
Add the flour mixture to the butter mixture and beat together until fully combined. Stir in almond beverage until a loose batter has formed.
Line a muffin tin with cupcake liners and fill each liner 2/3 of the way with the batter.
Bake cupcakes for 22 to 25 minutes or until a toothpick comes out clean when inserted into the center of the cupcake.
Allow cupcakes to cool completely before frosting.
Finish the cupcakes with fresh grapefruit zest and serve.
Made With These Almond Breeze® Products
Looking For Almond Breeze®?