Strawberry Coconut Cake
Nutrition Information
No nutritional info available at this time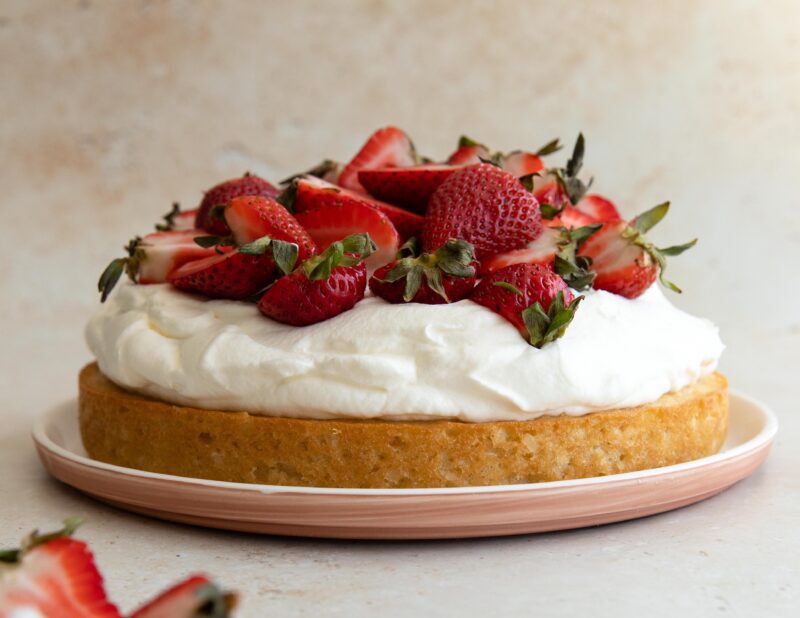 Nutrition Information
No nutritional info available at this time
Ingredients
Coconut Cake:
1 ¼ cups flour (160 grams)
⅔ cup sugar
1 tsp baking powder
½ tsp baking soda
½ tsp salt
¼ cup butter, softened and cubed
1 tsp vanilla
1 egg, at room temperature
¼ cup plain greek yogurt
½ cup coconut flakes
Toppings:
2 cups heavy cream
¼ cup sugar
1 lb strawberries
Directions
Preheat the oven to 350F. Add flour, sugar, baking powder, baking soda, and salt to a sifter and sift into a large bowl. Stir to combine.
Add butter, Almond Breeze Shelf Stable Unsweetened Original Almond Coconut Blend, and vanilla. Use a hand mixer or stand mixer and mix just until everything is combined.
Add the egg, greek yogurt, and coconut flakes. Mix again just until everything is combined.
Transfer the batter to a well-greased 8 inch or 9 inch cake pan. Transfer to the oven and cook for 25-30 minutes, until an inserted toothpick comes out clean. Gently transfer the cake to a cooling rack and let it cool completely.
While the cake cools, prepare the toppings. Add the whipped cream and sugar to a large bowl. Use a hand mixer or stand mixer to whip the cream until soft peaks form, about 4-6 minutes.
Slice the strawberries in halves or quarters. When the cake has completely cooled, add the whipped cream on top, then the strawberries. Slice and enjoy!
Made With These Almond Breeze® Products
Looking For Almond Breeze®?