Vegan Berry Lemon Muffins
Nutrition Information
| Nutrient name | Nutrient weight per serving |
| --- | --- |
| Total Fat | 11.7g |
| Total Carbohydrates | 34.7g |
| Dietary Fiber | 1.1g |
| Sugars | 17.7g |
| Sodium | 272.5mg |
| Protein | 2.3g |
| Potassium | 43.7mg |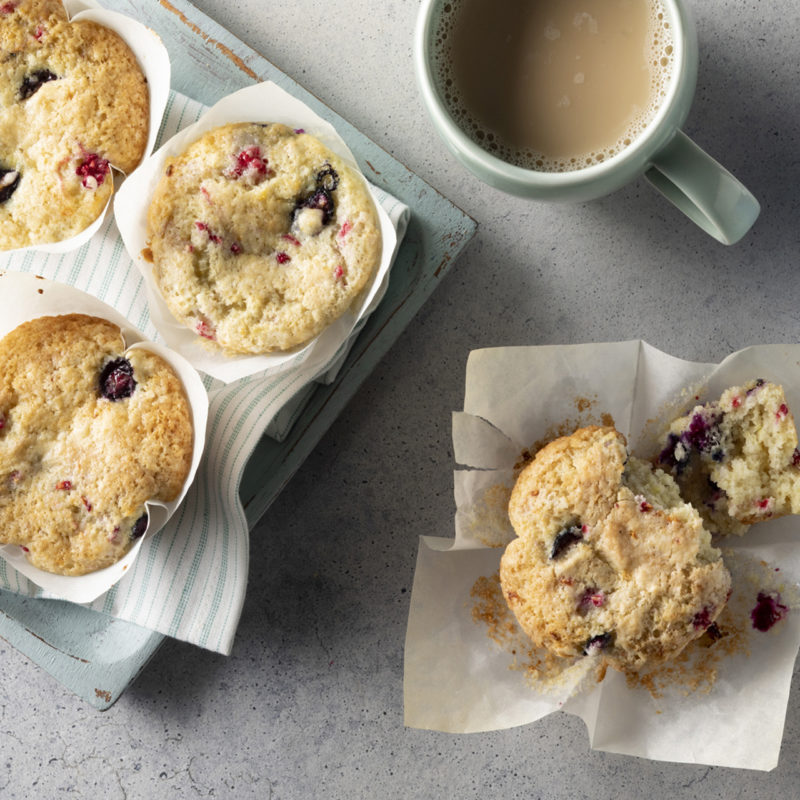 Vegan Berry Lemon Muffins
Nutrition Information
| Nutrient name | Nutrient weight per serving |
| --- | --- |
| Total Fat | 11.7g |
| Total Carbohydrates | 34.7g |
| Dietary Fiber | 1.1g |
| Sugars | 17.7g |
| Sodium | 272.5mg |
| Protein | 2.3g |
| Potassium | 43.7mg |
Ingredients
2 cups flour
1 tbsp. baking powder
Zest of 1 lemon
1/2 tsp. salt
1/3 cup softened vegan margarine
1/3 cup canola oil
1 cup sugar
1 tsp. vanilla
1/2 cup Vanilla Almond Breeze® Almond Beverage
1/2 cup blueberries
1/2 cup raspberries
Directions
In a bowl, sift flour, baking powder, lemon zest, and salt.
Add softened vegan margarine, canola oil, sugar, vanilla, and Almond Breeze®.
Mix well.
Fold in blueberries and raspberries.
Pour into muffin tin, and bake at 350 degrees for 25 minutes or until toothpick comes out clean.
Made With These Almond Breeze® Products
Looking For Almond Breeze®?