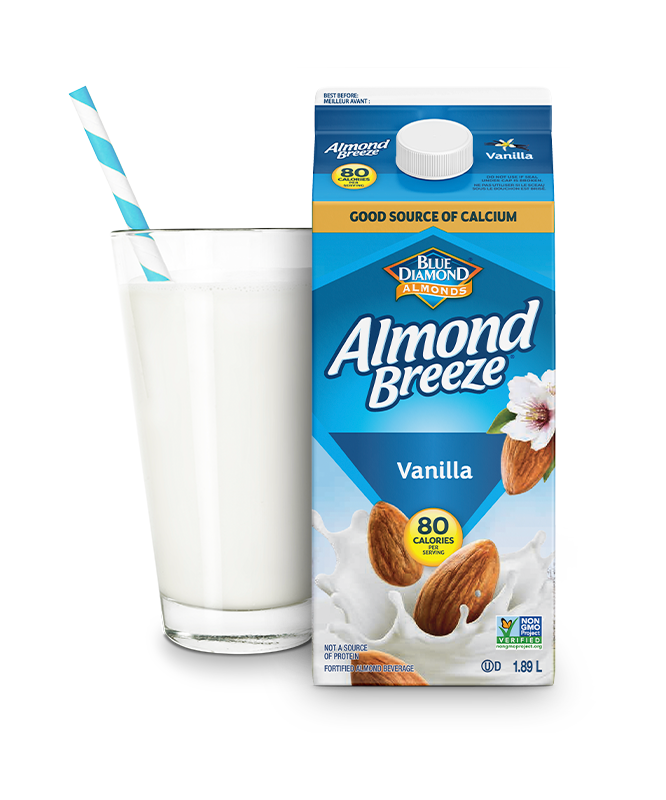 Refrigerated
Vanilla
We blended natural vanilla flavour and real California almonds to create a deliciously creamy almond beverage. Try it over cereal or in your next smoothie. Almond Breeze® Vanilla contains just 80 calories per cup and no saturated fat.
Ingredients
Water

,

Cane Sugar

,

Almonds

,

,

Derived from limestone, calcium carbonate is a natural mineral used to fortify a product as a source of additional calcium.

Natural Vanilla Flavour

,

,

The potassium salt of citric acid, it is used to maintain quality.

Sea Salt

,

,

Derived from sunflower, it prevents separation.

,

Derived from fermented starch, it is used to prevent separation.

Zinc Gluconate

,

Vitamin A Palmitate

,

Riboflavin (Vitamin B2)

,

Vitamin D2

,

Vitamin B12
Nutrition Facts
Per Serve
Calories 80
Nutrient name and weight per serving

% Daily Value
Fat 2.5g
3%

Saturated 0.2g

+ Trans 0g

1%
Polyunsaturated 0.5g
Omega-6 0.5g
Omega-3 0g
Monounsaturated 1.5g
Cholesterol 0mg
0%
Sodium 150mg
7%
Potassium 175mg
4%
Carbohydrate 13g
0%
Fibre 0g
0%
Sugars 12g
Protein 1g
Vitamin A
6%
Calcium
23%
Iron
1%
Vitamin D
10%
Vitamin E
7%
Riboflavin
27%
Vitamin B12
42%
Phosphorus
2%
Magnesium
4%
Zinc
9%
---
Taste Guarantee
If you are not satisfied with the taste, we guarantee your money back.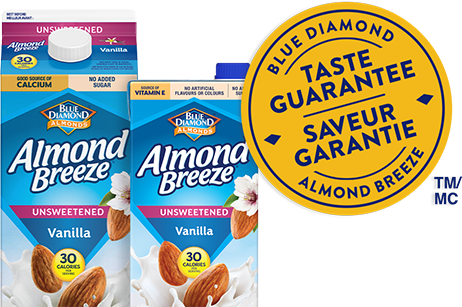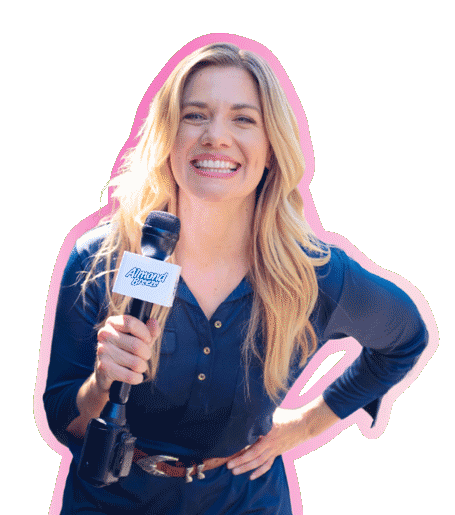 Stay in the Know on How We Grow.
Pint-Sized Lessons in Sustainability
Word on the street is Blue Diamond grows almonds with sustainability in mind. But don't just take our word for it, hear it from the growers themselves. We keep it fun as we talk about water-usage, honey bee population, and more.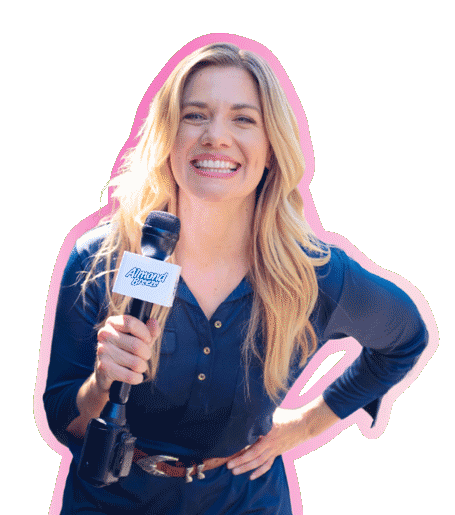 Feeling Creative?
Try One Of These Almond Breeze® Recipes!
Have You Tried Shelf Stable Almond Breeze®?
Our wonderful Shelf Stable products utilize a special type of packaging called Tetra Pak® that locks in the flavour of your favorite Almond Breeze® products. This feels like a good time to stock the pantry. Don't you think?
---
More Refrigerated Products
---