Strawberry Rhubarb Bread
Nutrition Information
| Nutrient name | Nutrient weight per serving |
| --- | --- |
| Total Fat | 18g |
| Total Carbohydrates | 44g |
| Dietary Fiber | 4g |
| Sugars | 4g |
| Cholesterol | 105mg |
| Sodium | 340mg |
| Protein | 11g |
| Potassium | 300mg |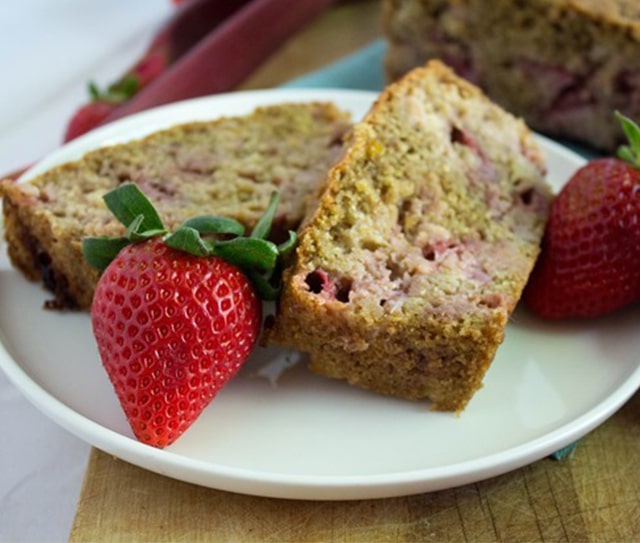 Nutrition Information
| Nutrient name | Nutrient weight per serving |
| --- | --- |
| Total Fat | 18g |
| Total Carbohydrates | 44g |
| Dietary Fiber | 4g |
| Sugars | 4g |
| Cholesterol | 105mg |
| Sodium | 340mg |
| Protein | 11g |
| Potassium | 300mg |
Ingredients
1 1/2 cups whole wheat pastry flour 1/2 tsp baking soda
1/4 tsp salt
1/4 tsp nutmeg
1/4 cup Almond Breeze Unsweetened Vanilla
2 eggs
3/4 cup organic cane sugar
3 tbsp coconut oil; melted
1 1/4 cups chopped strawberries
3/4 cup chopped rhubarb
Directions
Preheat oven to 350 degrees F.
In a large bowl, whisk the flour, baking soda, salt, and nutmeg together.
In a separate bowl, whisk together the Almond Breeze (either unsweetened vanilla almond milk or unsweetened vanilla almond cashew milk for extra creaminess), eggs, sugar, and coconut oil.
Stir the strawberries and rhubarb into the batter. Pour batter into a greased loaf pan.
Bake for 40-50 minutes, until a toothpick inserted in the center of the bread comes out clean. Cool for 10-15 minutes, then remove from the pan and allow to cool completely.
Made With These Almond Breeze® Products
Looking For Almond Breeze®?