Pumpkin Cornbread Muffins
Nutrition Information
| Nutrient name | Nutrient weight per serving |
| --- | --- |
| Total Fat | 5g |
| Total Carbohydrates | 35g |
| Dietary Fiber | 4g |
| Sugars | 10g |
| Protein | 3g |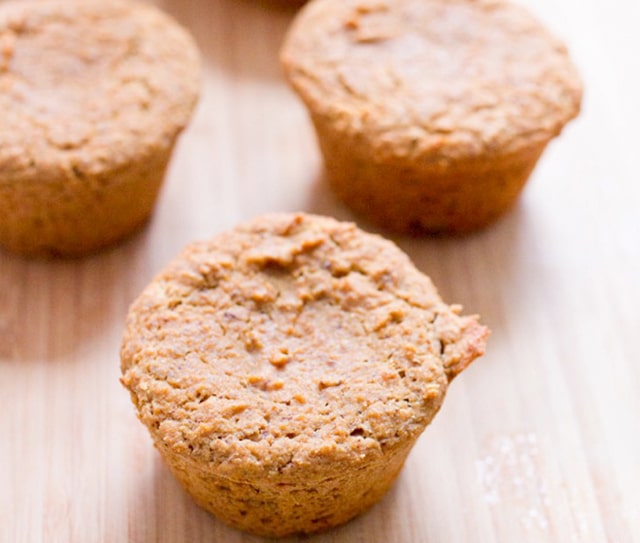 Pumpkin Cornbread Muffins
Nutrition Information
| Nutrient name | Nutrient weight per serving |
| --- | --- |
| Total Fat | 5g |
| Total Carbohydrates | 35g |
| Dietary Fiber | 4g |
| Sugars | 10g |
| Protein | 3g |
Ingredients
1 cup whole wheat pastry flour
1 cup cornmeal
1 Tablespoon baking powder
½ teaspoon sea salt
½ teaspoon ground cinnamon
¼ teaspoon ground nutmeg
2 Tablespoons ground flaxseed + 6 Tablespoons water
½ cup pumpkin puree (canned or freshly cooked and processed)
1 cup Almond Breeze® Almond Beverage (honey or unsweetened)
⅓ cup coconut sugar
2 tablespoons coconut oil, liquid
1 tablespoon molasses
Directions
Preheat oven to 350° F.
Prepare a regular sized 12-cup muffin tin by greasing or lining 8 cups.
In a medium sized bowl, make your flaxseed eggs by combining the flaxseed with water, giving it a good stir and allowing it to sit for a few minutes to thicken up.
In large bowl, mix the flour, cornmeal, baking powder, salt, cinnamon, nutmeg.
Add the remaining ingredients (pumpkin, almond beverage, coconut sugar, coconut oil and molasses) into the bowl with the flaxseed eggs and stir well to combine.
Gently add the wet mixture into the bowl with the dry ingredients and stir until just mixed. Do no over mix.
Evenly divide the cornbread mixture into 8 cups. Bake for 25 minutes, until golden in color and a toothpick comes out clean.
Made With These Almond Breeze® Products
Looking For Almond Breeze®?