Seared Halibut with Romesco Sauce
Nutrition Information
| Nutrient name | Nutrient weight per serving |
| --- | --- |
| Total Fat | 29.6g |
| Total Carbohydrates | 22.4g |
| Dietary Fiber | 8.5g |
| Sugars | 8g |
| Cholesterol | 46.5mg |
| Sodium | 191.3mg |
| Protein | 42.3g |
| Potassium | 1271.1mg |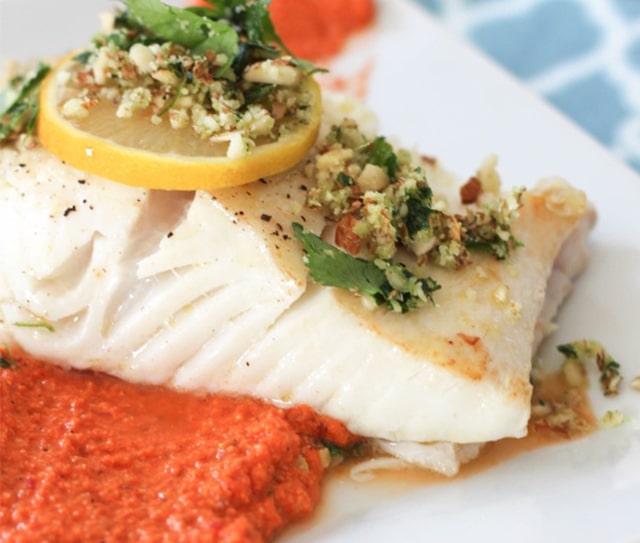 Seared Halibut with Romesco Sauce
Nutrition Information
| Nutrient name | Nutrient weight per serving |
| --- | --- |
| Total Fat | 29.6g |
| Total Carbohydrates | 22.4g |
| Dietary Fiber | 8.5g |
| Sugars | 8g |
| Cholesterol | 46.5mg |
| Sodium | 191.3mg |
| Protein | 42.3g |
| Potassium | 1271.1mg |
Ingredients
1/2 cup almonds

2 roasted red bell peppers (about 1 cup. Use the jarred vinegar ones, or those found in the antipasto section of the grocery store)

1 beefsteak tomato, seeded

2-3 garlic cloves

1/4 cup Almond Breeze® Original Almond Beverage

Splash of olive oil

1/4 teaspoon smoked paprika

2 servings of halibut

Salt and pepper

Fresh lemon juice

1/4 cup almonds

1/4 cup cilantro

1/4 cup parsley
Lemon slices for serving

Directions
In a blender or large food processor, blend the Romesco sauce ingredients until smooth. Add salt and pepper if needed. Transfer to a bowl, and if serving immediately, add some to your plates for serving, (I used a silicone basting brush to spread the sauce across the plate).
Make the crumble. Wash out the food processor, and add the almonds, cilantro and parsley. Pulse until chopped, and reserve in a small bowl. Slice a lemon for serving.
Preheat a large saute pan to medium-high and add a drizzle of olive oil. Season the halibut well with salt and pepper. When the olive oil begins to bubble and move, add the fish, skin side up, to the pan. Sear for 3-4 minutes before flipping. Squeeze lemon juice on top, and cook for 2-3 minutes on the other side, until fish begins to flake.
Place the fish on top of the sauce, add a lemon slice or two, and some almond-herb crumble. Enjoy!
Made With These Almond Breeze® Products
Looking For Almond Breeze®?