Skinny Pasta Primavera
Nutrition Information
| Nutrient name | Nutrient weight per serving |
| --- | --- |
| Total Fat | 41g |
| Total Carbohydrates | 52g |
| Dietary Fiber | 13g |
| Sugars | 6g |
| Cholesterol | 40mg |
| Sodium | 410mg |
| Protein | 26g |
| Potassium | 850mg |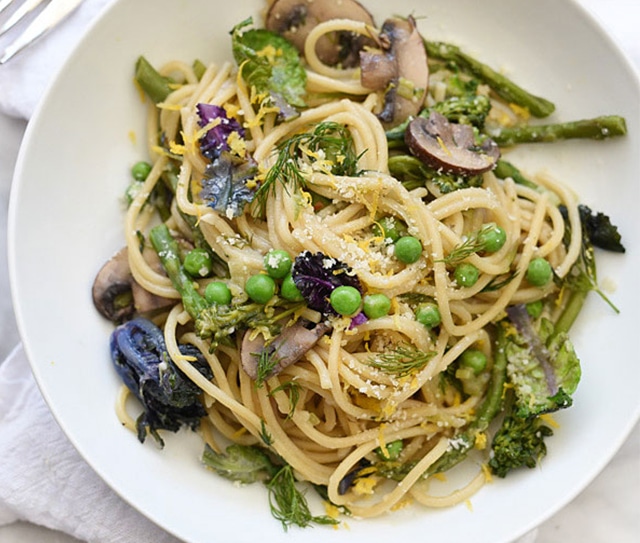 Nutrition Information
| Nutrient name | Nutrient weight per serving |
| --- | --- |
| Total Fat | 41g |
| Total Carbohydrates | 52g |
| Dietary Fiber | 13g |
| Sugars | 6g |
| Cholesterol | 40mg |
| Sodium | 410mg |
| Protein | 26g |
| Potassium | 850mg |
Ingredients
8 ounces spaghetti noodles, broken in half
1 leek, cleaned and sliced thinly
½ pound asparagus ¼ pound broccoli florets
1 cup brown mushrooms, stemmed and sliced
4 cloves garlic, peeled and minced
3 cups Almond Breeze® Original Unsweetened Almond Beverage
½ cup vegetable broth
⅛ teaspoon red pepper flakes
1 teaspoon kosher salt
6 fresh thyme sprigs, leaves separated from the stems
1 tablespoon olive oil
10­-12 kale sprouts, ends trimmed and leaves separated
¾ cup English peas, or frozen peas that have been thawed
½ lemon, juiced and zested
½ cup grated parmesan cheese and more for garnish
⅓ cup dill leaves, roughly chopped
Directions
Add the broken spaghetti noodles, leek, asparagus, broccoli, mushrooms, garlic, almond beverage, vegetable broth, red pepper flakes, kosher salt, thyme leaves and olive oil to a large stock pot or dutch oven.
Bring to a boil then reduce to simmer but still bubbling and cook for 8 minutes, stirring occasionally so pasta doesn't stick together.
Add the kale sprout leaves and peas and cook for another 2­3 minutes or until pasta is cooked and the beverage has reduced to a sauce.
Stir in the lemon juice, parmesan cheese and dill. The sauce will thicken as it cools. Season with more kosher salt as desired.
Serve with more dill leaves, parmesan cheese and sprinkle with the lemon zest.
Made With These Almond Breeze® Products
Looking For Almond Breeze®?