Roasted Corn and Poblano Risotto
Nutrition Information
| Nutrient name | Nutrient weight per serving |
| --- | --- |
| Total Fat | 28.6g |
| Total Carbohydrates | 62.1g |
| Dietary Fiber | 1.7g |
| Sugars | 7.3g |
| Cholesterol | 50.8mg |
| Sodium | 1023.7mg |
| Protein | 24.7g |
| Potassium | 593.5mg |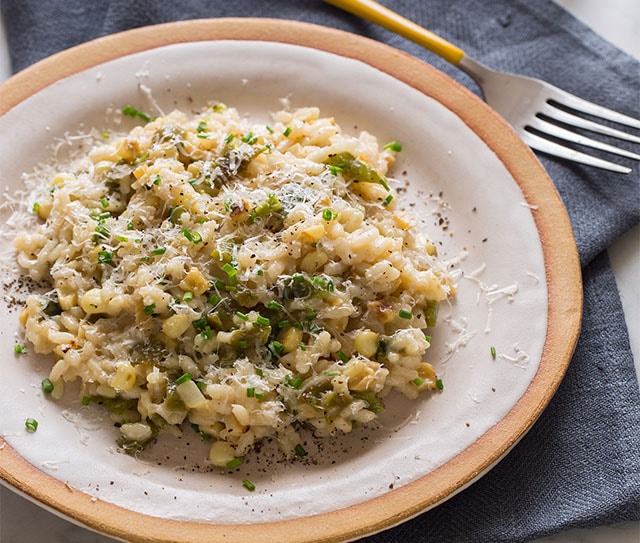 Roasted Corn and Poblano Risotto
Nutrition Information
| Nutrient name | Nutrient weight per serving |
| --- | --- |
| Total Fat | 28.6g |
| Total Carbohydrates | 62.1g |
| Dietary Fiber | 1.7g |
| Sugars | 7.3g |
| Cholesterol | 50.8mg |
| Sodium | 1023.7mg |
| Protein | 24.7g |
| Potassium | 593.5mg |
Ingredients
2 1/2 tablespoons unsalted butter, softened and divided
2 1/2 tablespoon extra virgin olive oil
2 shallots, diced
2 garlic cloves, minced
1 cup Arborio rice
2/3 cup dry white wine
4 to 5 cups vegetable or chicken stock, warmed
2 ears corn, roasted and removed from the cob
2 roasted poblano peppers, seeded and diced
1/2 cup Almond Breeze® Unsweetened Original Almond Beverage
4 oz. Parmesan cheese, finely grated
Salt and pepper to taste
Grated parmesan
Directions
Place a medium skillet over medium-high heat and sauté shallots for 2 minutes. Add garlic and rice and continue to sauté for 3 to 4 minutes or until a small white dot remains in the center of each grain of rice. Season with salt and pepper.
Deglaze pan with wine and stir. Allow almost all the liquid to evaporate then reduce the heat to medium and add 2/3 cup warm stock, stirring frequently.
Each time the liquid evaporates add another ladle of stock and continue to stir. Repeat until the rice is al dente, about 20 minutes. Season with salt and pepper.
Stir in roasted corn and poblano peppers, Almond Breeze®, and parmesan.
Top with a little more grated parmesan, adjust seasonings and serve.
Made With These Almond Breeze® Products
Looking For Almond Breeze®?