Tuna Casserole
Nutrition Information
| Nutrient name | Nutrient weight per serving |
| --- | --- |
| Dietary Fiber | 3g |
| Sugars | 3.7g |
| Sodium | 668.5mg |
| Protein | 19.9g |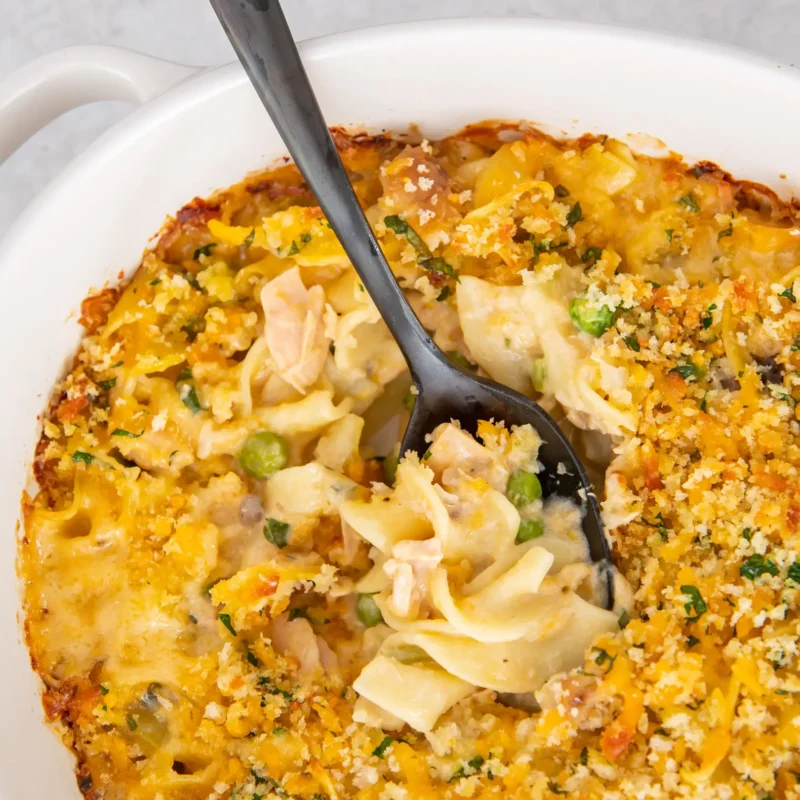 Nutrition Information
| Nutrient name | Nutrient weight per serving |
| --- | --- |
| Dietary Fiber | 3g |
| Sugars | 3.7g |
| Sodium | 668.5mg |
| Protein | 19.9g |
Ingredients
3 cups of egg noodles
1 tablespoon olive oil
1 small onion, diced
2 stalks celery, diced
⅔ cup frozen peas, defrosted and drained of all liquid
1 6-oz can tuna in water, drained
9 oz condensed mushroom soup
1 ½ cup cheddar cheese, shredded
2 tablespoon parsley
½ cup panko breadcrumbs
1 tablespoon butter (melted)
1 tablespoon parsley, chopped
Directions
Preheat the oven to 425°F.
In a small bowl, combine 1 tbsp of the chopped parsley, ½ cup of the shredded cheddar cheese, all panko breadcrumbs, and the melted butter to create the topping. Mix together and set aside.
Boil noodles according to package directions for al dente (slightly undercooked as they will cook more in the casserole.) Drain and rinse noodles under cold water.
Cook onion and celery in butter until tender, roughly 6 minutes.
In a large bowl combine noodles, onion/celery mixture, peas, soup, almond beverage, cheese, tuna and parsley. Mix well.
Spread into a casserole dish and add topping mixture.
Bake for 20 minutes or until bubbly.
Made With These Almond Breeze® Products
Looking For Almond Breeze®?