Iced Coffee with Chocolate Ice Cubes
Nutrition Information
| Nutrient name | Nutrient weight per serving |
| --- | --- |
| Total Fat | 2g |
| Total Carbohydrates | 12g |
| Dietary Fiber | 1g |
| Sugars | 10g |
| Sodium | 60mg |
| Protein | 4g |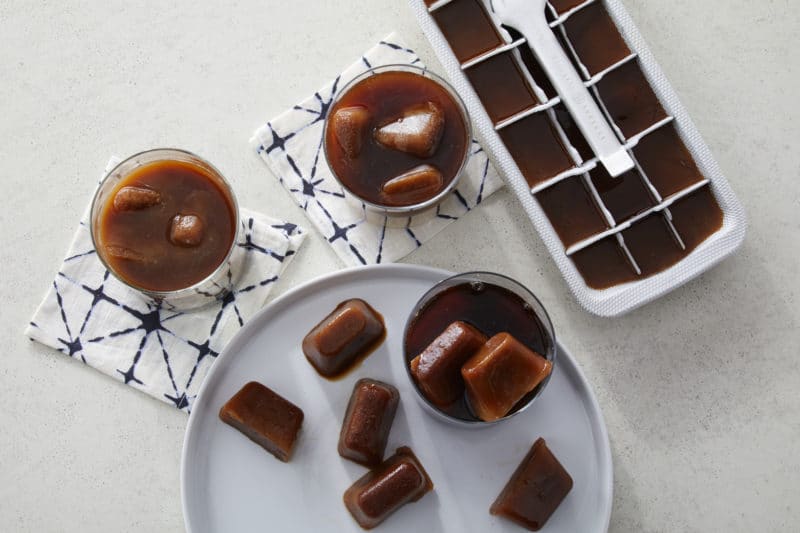 Iced Coffee with Chocolate Ice Cubes
Nutrition Information
| Nutrient name | Nutrient weight per serving |
| --- | --- |
| Total Fat | 2g |
| Total Carbohydrates | 12g |
| Dietary Fiber | 1g |
| Sugars | 10g |
| Sodium | 60mg |
| Protein | 4g |
Ingredients
4 cups brewed coffee (divided)
1/4 cup Almond Breeze Chocolate Almond Beverage
1 Tbsp. honey
1 cup Almond Breeze Vanilla Almond Beverage
¼ cup Creamer
Directions
In a medium bowl, whisk 1 cup ice coffee, chocolate almond beverage and honey together, then pour into an ice cube tray. Place in the freezer and freeze until firm, about 4 hours.
Fill four glasses with ice cubes, then top each with ¾ cup of ice coffee, ¼ cup almond beverage, and 1 tablespoon creamer.
Serve.
Made With These Almond Breeze® Products
Looking For Almond Breeze®?