Chocolate-Covered Cherry Shake
Nutrition Information
| Nutrient name | Nutrient weight per serving |
| --- | --- |
| Total Fat | 4.5g |
| Total Carbohydrates | 70.3g |
| Dietary Fiber | 13.7g |
| Sugars | 41.8g |
| Sodium | 140mg |
| Protein | 6.7g |
| Potassium | 796.8mg |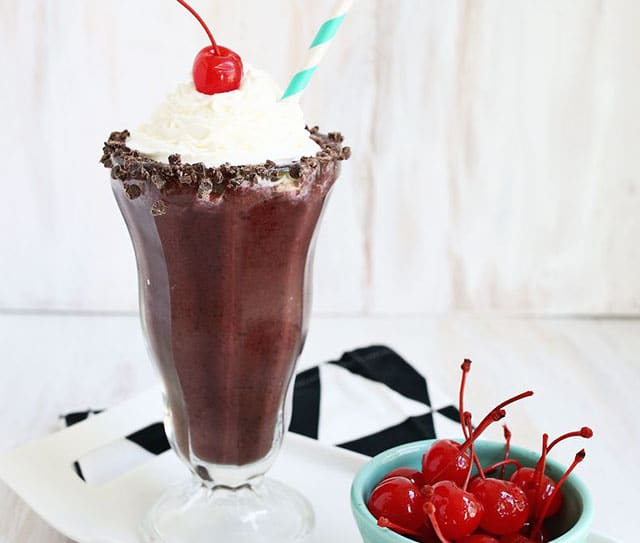 Chocolate-Covered Cherry Shake
Nutrition Information
| Nutrient name | Nutrient weight per serving |
| --- | --- |
| Total Fat | 4.5g |
| Total Carbohydrates | 70.3g |
| Dietary Fiber | 13.7g |
| Sugars | 41.8g |
| Sodium | 140mg |
| Protein | 6.7g |
| Potassium | 796.8mg |
Ingredients
1/2- 3/4 cup Unsweetened Vanilla Almond Breeze® Almond Beverage
1 1/2 cups frozen pitted cherries
3 tablespoons unsweetened cocoa powder
1 frozen ripe banana
Directions
Cut your ripe banana into smaller chunks and place in the freezer until frozen. Combine your frozen bananas, frozen cherries (which you can buy frozen, or pit and freeze your own), cocoa powder, and 1/2 cup of the unsweetened vanilla almond beverage in a blender. Blend on a high speed until smooth, and add an additional 1/4 cup of almond beverage if your shake is too thick to blend. Pour into a glass and enjoy!
Made With These Almond Breeze® Products
Looking For Almond Breeze®?