Almond Banana Bread
Nutrition Information
| Nutrient name | Nutrient weight per serving |
| --- | --- |
| Total Fat | 21g |
| Total Carbohydrates | 20g |
| Dietary Fiber | 4g |
| Sugars | 11g |
| Cholesterol | 35mg |
| Sodium | 200mg |
| Protein | 9g |
| Potassium | 310mg |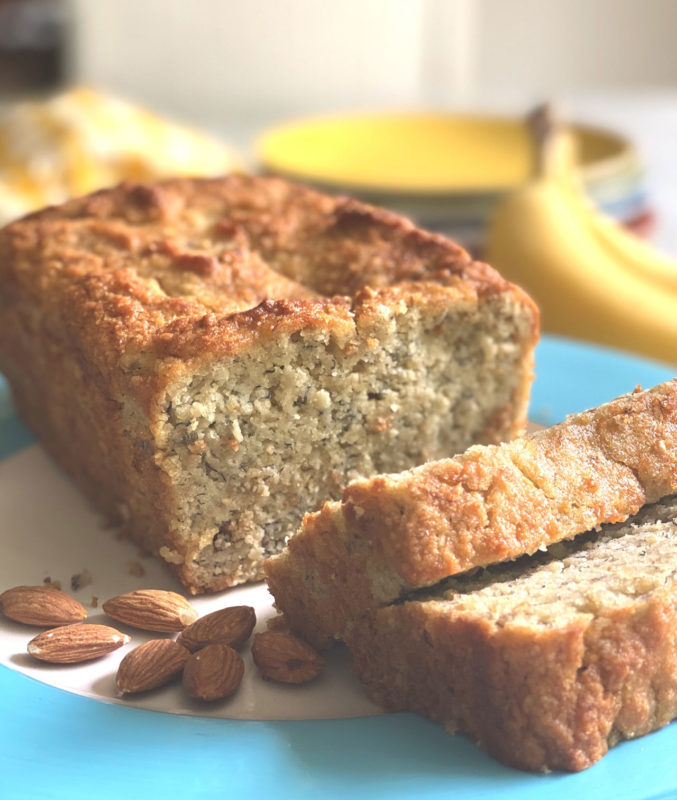 Nutrition Information
| Nutrient name | Nutrient weight per serving |
| --- | --- |
| Total Fat | 21g |
| Total Carbohydrates | 20g |
| Dietary Fiber | 4g |
| Sugars | 11g |
| Cholesterol | 35mg |
| Sodium | 200mg |
| Protein | 9g |
| Potassium | 310mg |
Ingredients
Ingredients
2 1/2 cups lightly packed Almond Flour
1/4 cup Blue Diamond® Almond Breeze® Vanilla Almond Beverage
1/3 cup sugar
3 tablespoons vegetable oil
2 teaspoons vanilla extract
2 eggs + 2 egg whites
1 cup well mashed ripe banana (about 2 large bananas)
1/2 cup rolled oats, pulsed in a food processor to finely chop
1 teaspoon baking powder
1/2 teaspoon baking soda
1/4 teaspoon salt
Directions
Preheat oven to 325°F and coat an 8 X 5-inch loaf pan with nonstick cooking spray. Place a small piece of parchment paper on the bottom and up the 2 longer sides of pan.
Whisk together sugar, Almond Breeze®, oil, vanilla and eggs in a large bowl until well mixed, then stir in banana. Stir together almond flour, oats, baking powder, baking soda and salt, then add to bowl with banana mixture, stirring just until incorporated.
Spread in prepared baking pan and bake for 1 hour, 15 minutes or until a bamboo skewer inserted into the center comes out clean, tenting with foil if surface browns too quickly. Let cool completely before removing from pan and slicing. (For easier slicing, let sit overnight loosely wrapped.) Makes 10 servings.
Made With These Almond Breeze® Products
Looking For Almond Breeze®?