Healthy Double Chocolate Zucchini Muffins
Nutrition Information
| Nutrient name | Nutrient weight per serving |
| --- | --- |
| Total Fat | 6g |
| Total Carbohydrates | 25g |
| Dietary Fiber | 2.3g |
| Sugars | 14g |
| Protein | 3.4g |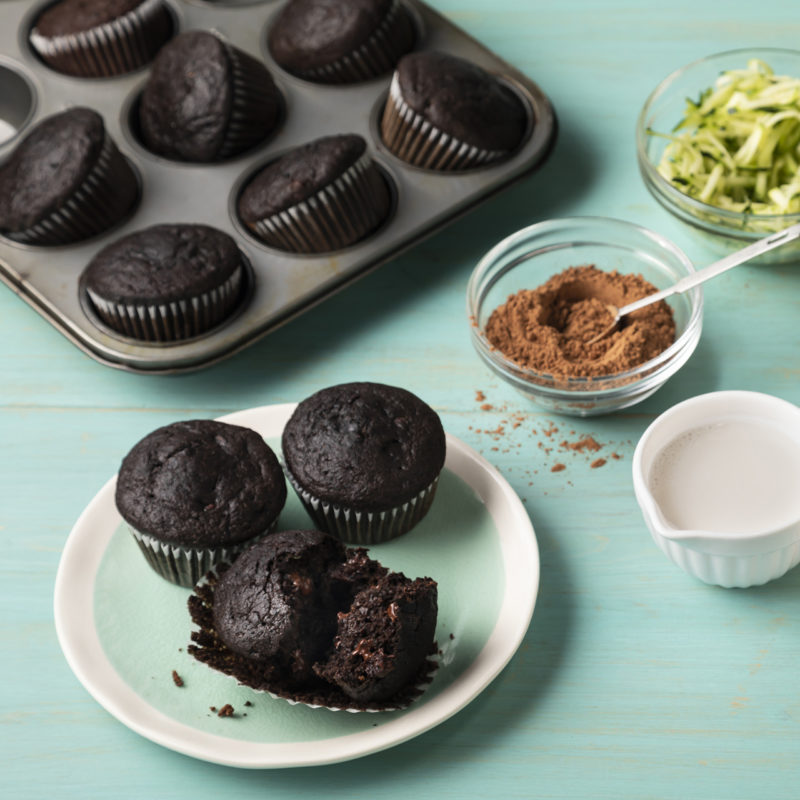 Healthy Double Chocolate Zucchini Muffins
Nutrition Information
| Nutrient name | Nutrient weight per serving |
| --- | --- |
| Total Fat | 6g |
| Total Carbohydrates | 25g |
| Dietary Fiber | 2.3g |
| Sugars | 14g |
| Protein | 3.4g |
Ingredients
1 ¼ cup whole wheat pastry flour or white whole wheat flour
1/3 cup unsweetened cocoa powder
1 teaspoon baking soda
¼ teaspoon salt
2 tablespoons coconut oil
1/3 cup honey or agave nectar
1 teaspoon vanilla
1 egg
1 egg white
1 cup shredded zucchini (about 1 medium)
¼ cup unsweetened applesauce
½ cup Unsweetened Original Almond Breeze® Almond Beverage
½ cup regular or mini chocolate chips
Directions
Preaheat oven to 350 degrees F. Line 12 cup muffin tin with cupcake liners and generously spray inside of liners with nonstick cooking spray.
Squeeze shredded zucchini of excess water with a paper towel. This is important, so don't forget!
In a medium bowl, whisk together flour, cocoa powder, baking soda, and salt; set aside. In the bowl of an electric mixer, add coconut oil, honey, vanilla, and egg whites; mix on medium-low until smooth and well combined. Add in zucchini, applesauce, and almond beverage; mix again. Slowly add in dry ingredients and mix until just combined. Gently fold in chocolate chips.
Evenly divide batter into prepared liners. Bake 22-25 minutes or until toothpick inserted into middle comes out clean. After 5 minutes, remove muffins and transfer to wire rack to finish cooling. Enjoy!
Notes
To keep muffins dairy free, use dairy free chocolate chips.
I love adding a few extra chocolate chips (2-3) on top of each muffin before baking to make them look pretty, but it's up to you!
Made With These Almond Breeze® Products
Looking For Almond Breeze®?