Whole Wheat Vegan Waffles
Nutrition Information
| Nutrient name | Nutrient weight per serving |
| --- | --- |
| Total Fat | 8.3g |
| Total Carbohydrates | 28.8g |
| Dietary Fiber | 4.8g |
| Sugars | 4.4g |
| Sodium | 200mg |
| Protein | 3.6g |
| Potassium | 45.8mg |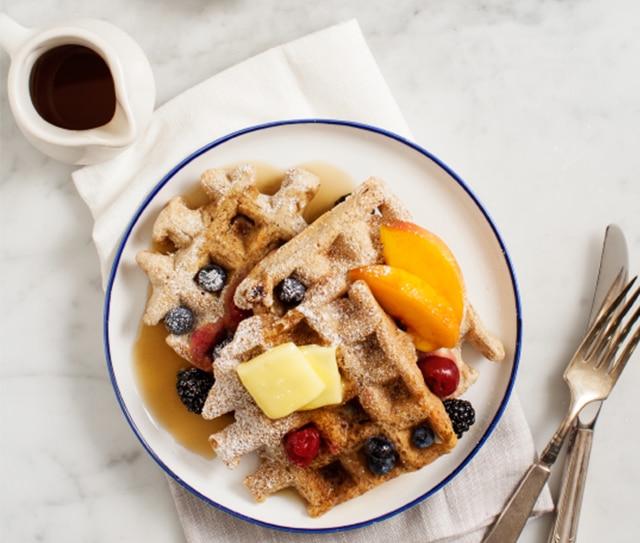 Whole Wheat Vegan Waffles
Nutrition Information
| Nutrient name | Nutrient weight per serving |
| --- | --- |
| Total Fat | 8.3g |
| Total Carbohydrates | 28.8g |
| Dietary Fiber | 4.8g |
| Sugars | 4.4g |
| Sodium | 200mg |
| Protein | 3.6g |
| Potassium | 45.8mg |
Ingredients
1.5 cups Almond Breeze® Original Almond Beverage(or for extra creaminess use Almond Breeze® Almond Cashew Blend Unsweetened Original) at room temp
1.5 tablespoons lemon juice
2 cups loose-packed whole wheat pastry flour (or white/wheat mix)
2.5 teaspoons baking powder
2 tablespoons ground flax meal
1/2 teaspoon cinnamon
2 tablespoons cane sugar
Teeny pinch of sea salt
1/4 cup melted coconut oil
1/2 teaspoon vanilla
Maple syrup & butter (vegan butter)
Seasonal fruit
Directions
Preheat your waffle iron (I use setting #5 on mine - the second to highest setting)
In a small bowl, combine Almond Breeze® and lemon juice. Set aside.
In a medium bowl, combine all dry ingredients (flour, baking powder, flax meal, cinnamon, sugar, and salt).
To your small bowl (with the almond beverage), add melted coconut oil and vanilla and whisk together. Then pour your wet ingredients into the dry ingredients and mix until just combined (don't over mix).
Spray your waffle iron with a little cooking spray and scoop in the batter. I let my waffles cook for about a minute after the beep for an ideal crispy-on-the-outside texture.
Serve waffles immediately (while they're piping hot!), with butter, maple syrup and fruit.
Let leftover waffles cool and freeze for easy weekday waffles later. (they toast up great).
Made With These Almond Breeze® Products
Looking For Almond Breeze®?