Vegan Almond Blueberry Pancakes
Nutrition Information
| Nutrient name | Nutrient weight per serving |
| --- | --- |
| Total Fat | 0.2g |
| Total Carbohydrates | 20.3g |
| Dietary Fiber | 0.6g |
| Sugars | 4.1g |
| Sodium | 461.6mg |
| Protein | 2.2g |
| Potassium | 22.6mg |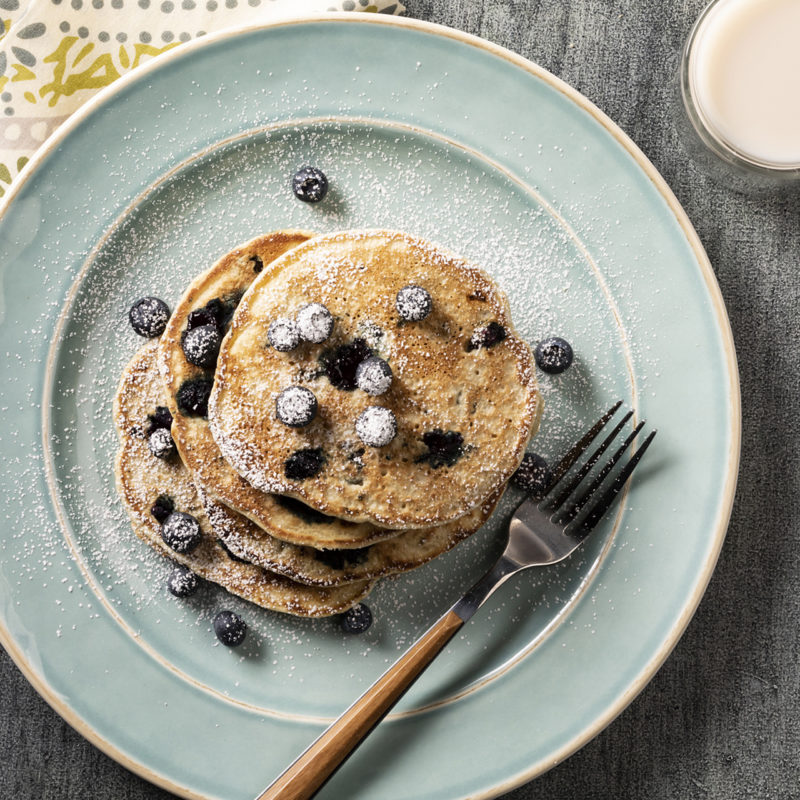 Vegan Almond Blueberry Pancakes
Nutrition Information
| Nutrient name | Nutrient weight per serving |
| --- | --- |
| Total Fat | 0.2g |
| Total Carbohydrates | 20.3g |
| Dietary Fiber | 0.6g |
| Sugars | 4.1g |
| Sodium | 461.6mg |
| Protein | 2.2g |
| Potassium | 22.6mg |
Ingredients
1 cup all-purpose flour
2 tablespoons pure cane sugar
2 teaspoons baking powder
1/2 teaspoon baking soda
1/2 teaspoon salt
3/4 cup, plus 1 tablespoon, Original Almond Breeze® Almond Beverage
1 teaspoon vanilla extract
1 pint fresh blueberries
Coconut oil, for the skillet
Directions
In medium bowl, mix together the flour, baking powder, baking soda and salt.
In a measuring cup or small bowl, measure out the almond beverage and vanilla extract.
Preheat your skillet over medium heat and brush with 1 teaspoon of vegetable oil. Using a 1/4-cup measure, scoop the batter onto the warm skillet. Cook for 3 to 4 minutes until small bubbles form on the surface of the pancakes, and then flip. Reduce the heat to medium-low and cook on the opposite sides for 1 to 2 minutes, or until golden brown.
Transfer the cooked pancakes to a baking sheet and place in a preheated 200 degree F oven to keep warm. Repeat the process with the remaining batter, adding more vegetable oil to the skillet when needed. Serve immediately.
Made With These Almond Breeze® Products
Looking For Almond Breeze®?