White Chicken Chili
Nutrition Information
| Nutrient name | Nutrient weight per serving |
| --- | --- |
| Dietary Fiber | 13g |
| Sugars | 2.9g |
| Sodium | 1368mg |
| Protein | 43.4g |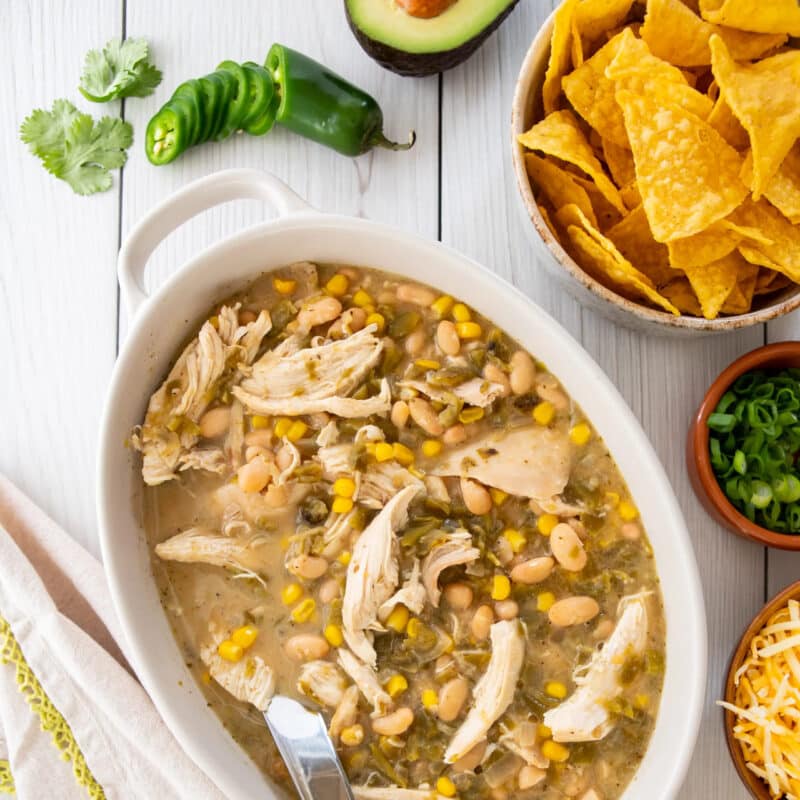 Nutrition Information
| Nutrient name | Nutrient weight per serving |
| --- | --- |
| Dietary Fiber | 13g |
| Sugars | 2.9g |
| Sodium | 1368mg |
| Protein | 43.4g |
Ingredients
1 tablespoon olive oil
1 small yellow onion, chopped
2 garlic cloves, minced
2 1/2 cups low-sodium chicken broth
2 4 oz cans diced green chilies
1 1/2 teaspoons ground cumin
1/4 teaspoon cayenne pepper
1/2 teaspoon dried oregano
1/2 teaspoon paprika
1/2 small lime
1/2 teaspoon salt
1/2 teaspoon pepper
2 15-oz cans great northern beans
1 cup corn (frozen or fresh)
2 heaping cups cooked chicken, shredded
Cilantro
Shredded cheese
Avocado, sliced
Green onion
Tortilla chips
Directions
Heat olive oil in a large (5-6 quart) pot over medium-high heat.
Add onion and sauté until softened.
Add garlic and cook for 1 minute.
Add chicken broth, green chilies, cumin, cayenne, paprika, oregano, lime juice, salt and pepper.
Drain and rinse beans in a strainer.
Put ½ the drained beans into a food processor with a splash of broth from the soup. Puree until smooth. Keep the rest of the beans whole.
Add pureed beans, whole beans and corn to the soup.
Bring the mixture to a simmer and cook for 20 minutes.
Remove from heat and stir in almond beverage and cooked chicken.
Serve garnished with cilantro, shredded cheese, avocado slices, green onion and tortilla chips.
Made With These Almond Breeze® Products
Looking For Almond Breeze®?