White Cheddar Polenta
Nutrition Information
| Nutrient name | Nutrient weight per serving |
| --- | --- |
| Total Fat | 90g |
| Total Carbohydrates | 55g |
| Dietary Fiber | 20g |
| Sugars | 11g |
| Cholesterol | 45mg |
| Sodium | 1450mg |
| Protein | 42g |
| Potassium | 1660mg |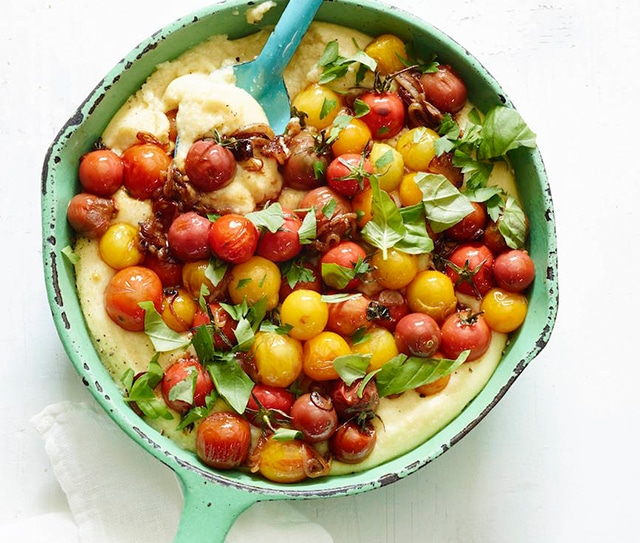 Nutrition Information
| Nutrient name | Nutrient weight per serving |
| --- | --- |
| Total Fat | 90g |
| Total Carbohydrates | 55g |
| Dietary Fiber | 20g |
| Sugars | 11g |
| Cholesterol | 45mg |
| Sodium | 1450mg |
| Protein | 42g |
| Potassium | 1660mg |
Ingredients
4 cups Almond Breeze® Almond Beverage Original Unsweetened
1 1/2 teaspoons salt
1 cup polenta (dry cornmeal)
2 tablespoons butter
1 cup (packed) grated sharp white cheddar cheese (about 4 ounces)
2 pints heirloom cherry tomatoes
1 tablespoon olive oil
2 shallots, finely sliced
3 cloves garlic, sliced
Fresh Basil
Flat leaf Parsley
Kosher Salt and freshly cracked black pepper
Directions
Combine 4 cups Almond Breeze® and 1 1/2 teaspoons salt in large saucepan. Bring to boil. Gradually whisk in polenta. Reduce heat to low. Cook until polenta thickens and begins to pull away from sides of pan, whisking often, about 25 minutes. Whisk in butter, and then the cheese and season with salt and pepper.
For the blistered tomatoes: Using your heaviest cast iron skillet, heat the oil over high heat. Add the shallots and garlic and sauté for 1 minute until fragrant. Add the cherry tomatoes and let sit for 2 minutes until they start to blister. Give them a quick stir and let them sit for another 2 minutes or so. Turn off the heat. Season with salt and pepper and sprinkle with a few tablespoons of torn basil and parsley. Serve the cherry tomatoes on top of the polenta.
Made With These Almond Breeze® Products
Looking For Almond Breeze®?