Creamed Kale
Nutrition Information
| Nutrient name | Nutrient weight per serving |
| --- | --- |
| Total Fat | 10g |
| Total Carbohydrates | 14.9g |
| Dietary Fiber | 4.8g |
| Sugars | 2.9g |
| Cholesterol | 23.5mg |
| Sodium | 271.4mg |
| Protein | 5.8g |
| Potassium | 577mg |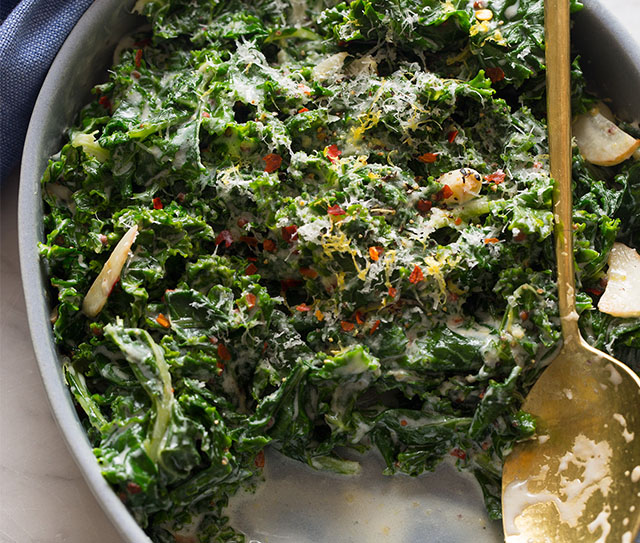 Nutrition Information
| Nutrient name | Nutrient weight per serving |
| --- | --- |
| Total Fat | 10g |
| Total Carbohydrates | 14.9g |
| Dietary Fiber | 4.8g |
| Sugars | 2.9g |
| Cholesterol | 23.5mg |
| Sodium | 271.4mg |
| Protein | 5.8g |
| Potassium | 577mg |
Ingredients
2 bunches kale, washed dried and torn into pieces (ribs removed)
2 tablespoons unsalted butter, softened (can substitute coconut oil for healthier alternative)
1 garlic clove, minced
2 tablespoons minced shallot
3/4 cup Unsweetened Original Almond Breeze® Almond Beverage
1/4 cup freshly grated parmesan
1/2 teaspoon crushed red pepper flakes
Zest of 1 lemon
Salt and pepper to taste
Directions
Blanch kale in salted, boiling water until bright and tender, 6 to 8 minutes. Drain kale into a colander, pressing out as much liquid as possible. Set aside.
Place a skillet over medium high heat and melt butter. Sauté garlic and shallots for 3 to 4 minutes.
Add almond beverage and reduce heat to medium. Simmer mixture until almond beverage has reduced by 1/3.
Stir in the remaining ingredients and reduce heat to medium-low. Simmer until mixture has thickened and everything is completely combined. Adjust seasonings and serve.
Looking For Almond Breeze®?