Savory Scalloped Potatoes
Nutrition Information
| Nutrient name | Nutrient weight per serving |
| --- | --- |
| Total Fat | 7.5g |
| Total Carbohydrates | 30.5g |
| Dietary Fiber | 4.3g |
| Sugars | 4.1g |
| Cholesterol | 19.9mg |
| Sodium | 286.6mg |
| Protein | 9.5g |
| Potassium | 721.9mg |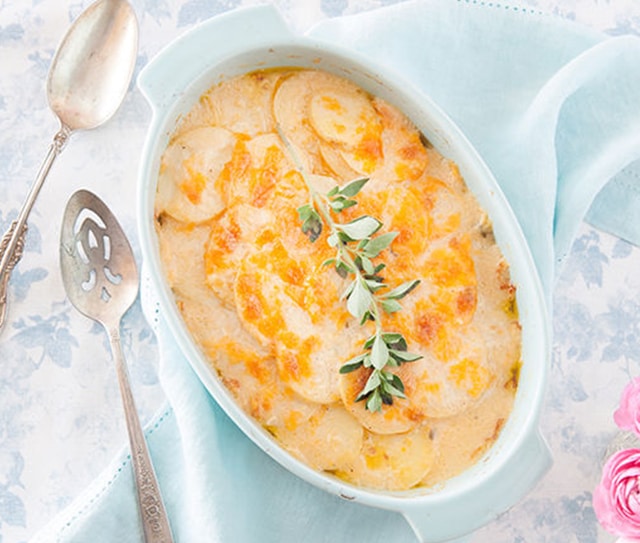 Savory Scalloped Potatoes
Nutrition Information
| Nutrient name | Nutrient weight per serving |
| --- | --- |
| Total Fat | 7.5g |
| Total Carbohydrates | 30.5g |
| Dietary Fiber | 4.3g |
| Sugars | 4.1g |
| Cholesterol | 19.9mg |
| Sodium | 286.6mg |
| Protein | 9.5g |
| Potassium | 721.9mg |
Ingredients
6 potatoes sliced ( we used Yukon gold potatoes)
2 cups Almond Breeze® Original Almond Beverage
1/2 cup grated Parmesan cheese
2 teaspoons fresh thyme sprigs
1 teaspoon nutmeg powder
1 bay leaf
1 cup cheddar cheese
1 garlic clove sliced
3 tablespoons all purpose flour
1 cup vegetable stock
Salt and pepper to taste
Directions
Thinly slice 6 Yukon potatoes (we used a mandolin for an even consistent cut). In a saucepan melt butter on medium heat, add in 3 tablespoons all purpose flour and whisk until smooth. Leave in 1 bay leaf and begin to add the Almond Breeze® while constantly stirring with a whisk. Add 1 thinly sliced garlic clove, 1 teaspoon nutmeg powder, 2 teaspoons fresh thyme sprigs. Mix in 1/2 cup grated Parmesan cheese and 1 cup vegetable stock and bring the mixture to a simmer to thicken. Salt and pepper to taste. Remove bay leaf and remove almond beverage mixture from heat.
Preheat oven to 375°F. Grease your casserole dish with a nonstick spray. Lay half of the sliced potatoes on the bottom of the casserole dish. Pour half of the Almond Breeze® mixture over the the potatoes. Repeat the process until you have a second layer. Spread the 1 cup of cheddar on top and place casserole dish into the oven. Bake for 45 minutes or until potatoes are tender and fully cooked.
Made With These Almond Breeze® Products
Looking For Almond Breeze®?