Vegan Strawberry Scones
Nutrition Information
| Nutrient name | Nutrient weight per serving |
| --- | --- |
| Total Fat | 10.6g |
| Total Carbohydrates | 7.6g |
| Dietary Fiber | 0.6g |
| Sugars | 2.1g |
| Sodium | 278.7mg |
| Protein | 0.3g |
| Potassium | 76.9mg |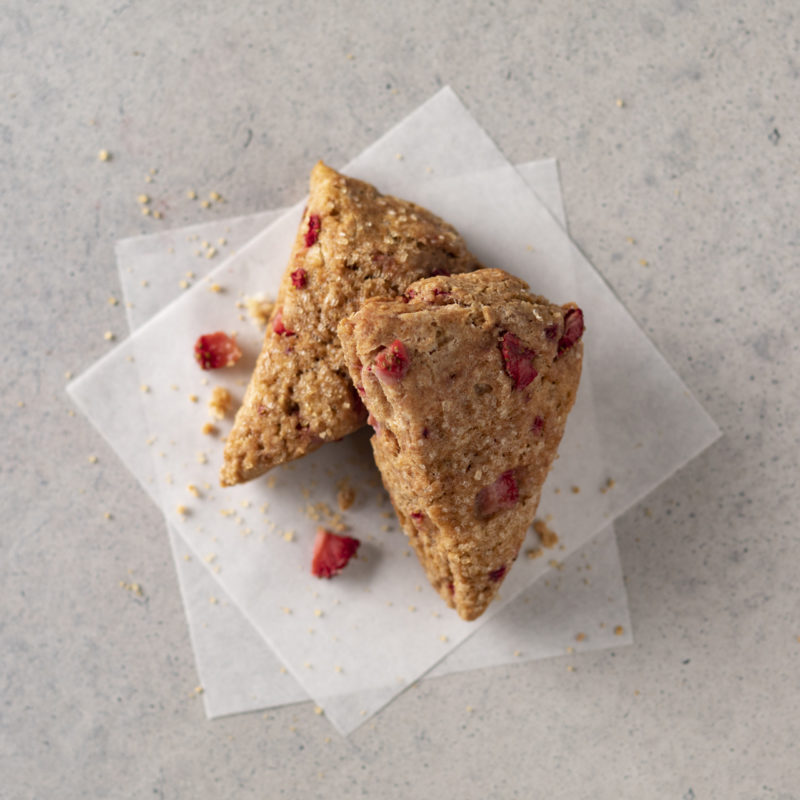 Nutrition Information
| Nutrient name | Nutrient weight per serving |
| --- | --- |
| Total Fat | 10.6g |
| Total Carbohydrates | 7.6g |
| Dietary Fiber | 0.6g |
| Sugars | 2.1g |
| Sodium | 278.7mg |
| Protein | 0.3g |
| Potassium | 76.9mg |
Ingredients
3 cups whole wheat pastry flour (plus more for surface)
3 tablespoons raw sugar
1 tablespoon baking powder
1/4 teaspoon salt
6 tablespoons cold coconut oil
1 cup chopped fresh strawberries
1 cup + 2 tablespoons Almond Breeze® Almond Coconut Original Almond Beverage
1 teaspoon vanilla extract
Extra Almond Breeze® Almond Coconut Original and raw sugar for topping (optional)
Directions
Preheat oven to 400 degrees F
In a large bowl, whisk together the flour, sugar, baking powder, and salt.
Cut the coconut oil in with a fork until the mixture is crumbly.
Stir in strawberries.
Stir in Almond Breeze® and vanilla, mixing until just combined & all the dry ingredients are incorporated.
Place dough onto a floured surface and pat into about a 9-inch circle. Cut the dough into 8 wedges. You may split the dough into two 4-5 inch circles, cutting each into 8 wedges, for smaller scones.
Transfer the wedges to a greased or nonstick baking sheet, brush with extra almond beverage and sprinkle with raw sugar if desired.
Bake 20 minutes, or until golden brown and firm to the touch.
Made With These Almond Breeze® Products
Looking For Almond Breeze®?