Dulce de Leche Churro Empanadas
Nutrition Information
No nutritional info available at this time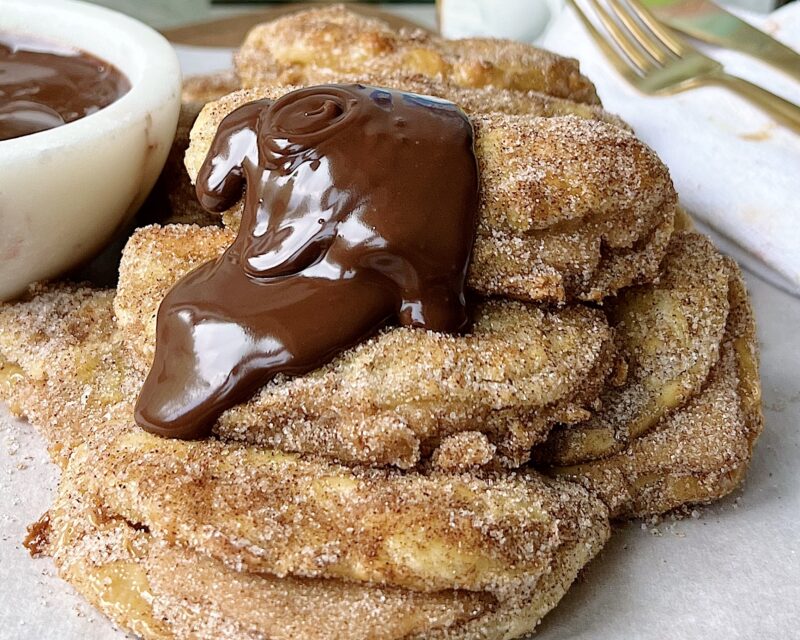 Dulce de Leche Churro Empanadas
Nutrition Information
No nutritional info available at this time
Ingredients
Churro:
1 package puff pastry, thawed according to instructions
3 tbsp granulated sugar + 1 tsp cinnamon
1 egg + 1 tbsp water, for egg wash
¼ cup vegan butter, melted, for brushing
Dairy-Free Dulce De Leche:
1 ¼ cups granulated sugar
¼ tsp baking soda
¼ tsp vanilla extract
¼ tsp ground cinnamon
Chocolate Dipping Sauce:
Directions
Start by making the dairy-free dulce de leche. In a large pot over medium heat, stir together the almond beverage, sugar, and baking soda.
Bring to a boil, stirring occasionally, making sure to remove the pot from the stove if it looks like the mixture is going to foam over. Keep stirring until the foam subsides and then return to the stovetop.
Once the mixture is boiling consistently without foaming, reduce the heat and simmer uncovered for about 1-1.5 hours, stirring occasionally, until the almond beverage has caramelized and thickened.
Once the mixture is a golden brown and has thickened, remove from heat and stir in the vanilla extract and ground cinnamon.
Transfer to a glass to cool.
Start making the empanadas. Preheat the oven to 450F. Line a baking sheet with parchment paper; set aside.
Cut 5-6 circles from each pastry sheet and place on the prepared baking sheet.
Spoon ~2 tsp of the dairy-free dulce de leche onto one side of each pastry circle.
Lightly brush each side with the egg wash and fold each circle over, and pinch the pastry at the edges. Fold them over and pink again to create a seal.
Brush the tops of the empanadas with the remaining egg wash and lightly pierce the tops with a fork.
Bake at 350F for 20-25 minutes, or until golden and puffed up.
Allow to cool for about 5 minutes, then brush the tops with the melted butter, and evenly coat in the cinnamon sugar mixture.
To make the chocolate dipping sauce, melt the chocolate and almond beverage in a microwave-safe bowl at 30-second intervals, until melted.
Serve the churro dulce de leche empanadas warm with the chocolate dipping sauce.
Made With These Almond Breeze® Products
Looking For Almond Breeze®?