Vegan Carrot Cake and Macadamia Frosting
Nutrition Information
| Nutrient name | Nutrient weight per serving |
| --- | --- |
| Total Fat | 18.8g |
| Total Carbohydrates | 46.6g |
| Dietary Fiber | 2.4g |
| Sugars | 24g |
| Sodium | 548.6mg |
| Protein | 4.1g |
| Potassium | 181.2mg |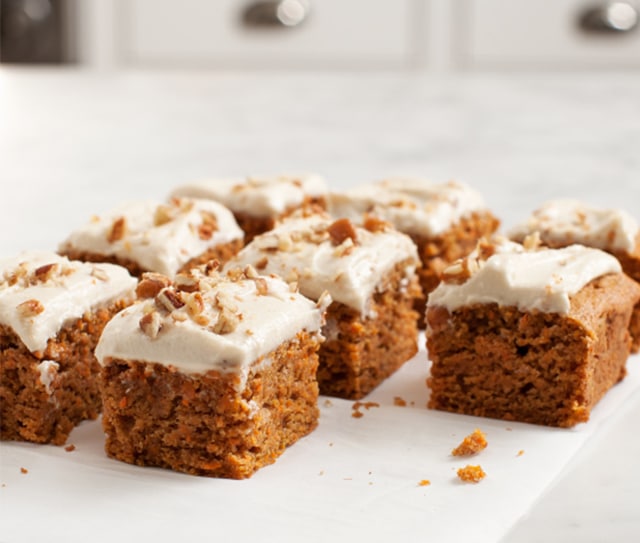 Vegan Carrot Cake and Macadamia Frosting
Nutrition Information
| Nutrient name | Nutrient weight per serving |
| --- | --- |
| Total Fat | 18.8g |
| Total Carbohydrates | 46.6g |
| Dietary Fiber | 2.4g |
| Sugars | 24g |
| Sodium | 548.6mg |
| Protein | 4.1g |
| Potassium | 181.2mg |
Ingredients
2 1/4 cups flour (I used half spelt and half cake flour)
1 tablespoon baking powder
1 teaspoon baking soda
1 tablespoon cinnamon
1/2 teaspoons nutmeg
1 tsp salt
1/2 cup applesauce
1 cup Almond Breeze® Original Almond Beverage
2 tsp vanilla
1 cup cane sugar
1/2 cup (melted) coconut or canola oil
2 cups grated carrots (just shy of 1lb)
1/2 cup macadamia nuts (soaked; drained and rinsed)
1/2 cup cashews (soaked; drained and rinsed)
1/4 cup Almond Breeze® Original Almond Beverage
1/4 cup maple syrup
2 Tbsp coconut oil
1 tsp vanilla
2 tsp lemon juice
1/2 tsp salt
Directions
Preheat oven to 325 degrees and grease a 9x13 (or similar) baking pan.
In a large bowl, whisk together the flour, baking powder, baking soda, cinnamon, nutmeg and salt.
In a separate bowl, whisk together the applesauce, almond beverage, vanilla, sugar and oil.
Mix the dry ingredients into the bowl with the wet ingredients.
Fold in the carrots and stir until just combined.
Bake for 30-40 minutes or until a toothpick comes out clean. Let cake cool completely before frosting.
For the frosting: combine frosting ingredients into a high speed blender. Start the blender on low and gradually increase speed (the mixture will be very thick at first). You can add an extra tablespoon of almond beverage if necessary to get your blade moving.
Blend until very smooth.
Chill for at least 30 minutes before spreading (it'll firm up a bit).
Store leftover frosted cake in the fridge.
Notes
Feel free to sub whole wheat pastry flour for the spelt flour.
Soak your cashew and macadamia nuts overnight. We recommend using a very high speed blender (Vitamix, Blendtec, or similar) for this frosting.
Made With These Almond Breeze® Products
Looking For Almond Breeze®?