Double Chocolate Pound Cake
Nutrition Information
| Nutrient name | Nutrient weight per serving |
| --- | --- |
| Total Fat | 21.7g |
| Total Carbohydrates | 71.5g |
| Dietary Fiber | 3g |
| Sugars | 56.4g |
| Cholesterol | 72.4mg |
| Sodium | 197.4mg |
| Protein | 3.6g |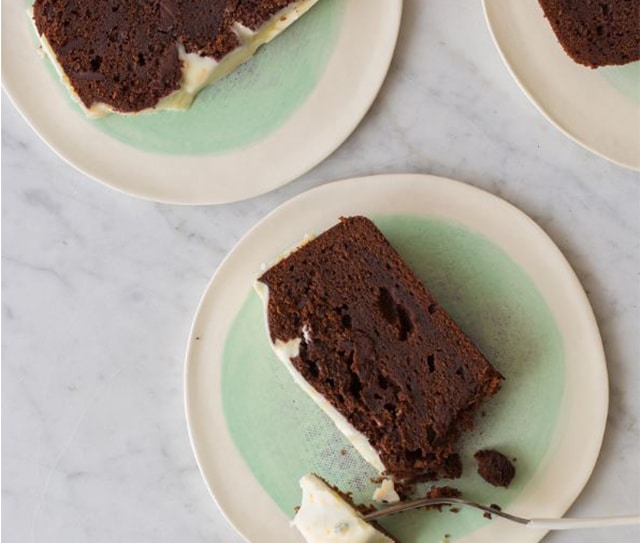 Double Chocolate Pound Cake
Nutrition Information
| Nutrient name | Nutrient weight per serving |
| --- | --- |
| Total Fat | 21.7g |
| Total Carbohydrates | 71.5g |
| Dietary Fiber | 3g |
| Sugars | 56.4g |
| Cholesterol | 72.4mg |
| Sodium | 197.4mg |
| Protein | 3.6g |
Ingredients
1 1/4 cup all purpose flour
2/3 cup unsweetened cocoa powder
1/2 teaspoon baking soda
1/4 teaspoon baking powder
1/2 teaspoon salt
1 cup (2 sticks) unsalted butter, softened
1 cup superfine sugar (granulated is fine)
1/2 cup light brown sugar
2 eggs, room temperature
2/3 cup Almond Breeze® Unsweetened Original Almond Beverage
1 1/2 teaspoon pure vanilla extract
3/4 cup bittersweet chocolate chips
Zest and juice of 1 small orange
1/4 cup Almond Breeze® Unsweetened Original Almond Beverage
1/2 teaspoon pure vanilla extract
2 1/2 to 3 cups sifted powdered sugar
Directions
Preheat oven to 325°F.
Place flour, cocoa powder, baking soda, baking powder, and salt into a large mixing bowl and whisk together. Set aside.
In another mixing bowl, cream together butter and sugars until light and fluffy. Add eggs one at a time, scraping down the sides of the bowl after each addition. Stir in almond beverage and vanilla until just combined.
Pour dry mixture into wet mixture and stir together until fully combined. Fold in chocolate chips and pour batter into a well greased 9"x5" loaf pan.
Bake pound cake for 1 hour 30 minutes to 1 hour 45 minutes or until a toothpick comes out clean when inserted into the center of the pound cake.
Remove from the oven and allow the loaf to cool completely before removing from the loaf pan.
For the glaze: In a small bowl, whisk together orange juice, almond beverage and vanilla. Begin whisking in powdered sugar, 1/2 cup at a time, until all the sugar has been used and the glaze is thick and smooth. Fold in the zest until just combined.
Pour the glaze over the pound cake and let it sit for about 20 minutes, to allow the glaze to harden. Slice and serve.
Made With These Almond Breeze® Products
Looking For Almond Breeze®?