Key Lime Pie Ice Pops
Nutrition Information
| Nutrient name | Nutrient weight per serving |
| --- | --- |
| Total Fat | 0.8g |
| Total Carbohydrates | 15.4g |
| Dietary Fiber | 0.2g |
| Sugars | 13.4g |
| Cholesterol | 1.3mg |
| Sodium | 41.4mg |
| Protein | 1.3g |
| Potassium | 90.1mg |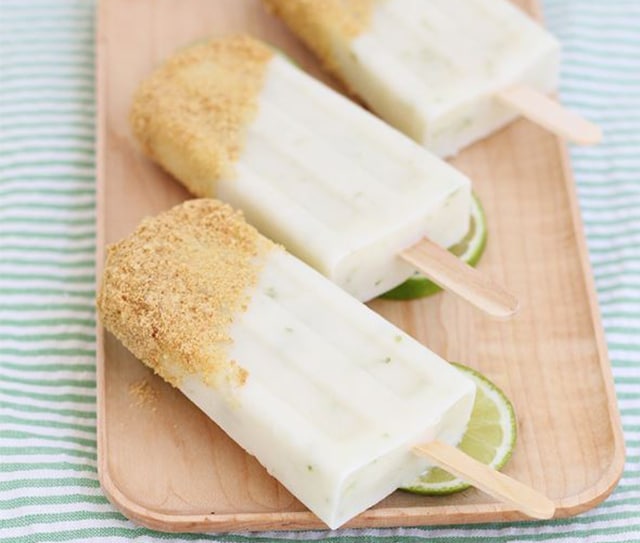 Nutrition Information
| Nutrient name | Nutrient weight per serving |
| --- | --- |
| Total Fat | 0.8g |
| Total Carbohydrates | 15.4g |
| Dietary Fiber | 0.2g |
| Sugars | 13.4g |
| Cholesterol | 1.3mg |
| Sodium | 41.4mg |
| Protein | 1.3g |
| Potassium | 90.1mg |
Ingredients
1 1/2 cups Almond Breeze® Vanilla Almond Beverage
3/4 cup freshly squeezed lime juice
Zest of 2 limes
1 cup almond or dairy yogurt (plain or vanilla)
1 cup powdered sugar
Graham cracker crumbs (for dipping)
Directions
In a bowl, whisk together almond beverage, lime juice, lime zest, yogurt and powdered sugar.
Pour into popsicle molds and freeze.
Quickly run molds under warm water just to loosen.
Immediately dip in graham cracker crumbs and either serve or freeze on a cookie sheet to serve later.
Notes
Using non-dairy yogurt would make this recipe completely dairy free. If you are using key limes, increase the zest to 4 limes worth.
Made With These Almond Breeze® Products
Looking For Almond Breeze®?