Havarti and Green Onion Cornmeal Biscuits
Nutrition Information
| Nutrient name | Nutrient weight per serving |
| --- | --- |
| Total Fat | 9g |
| Total Carbohydrates | 11.2g |
| Dietary Fiber | 0.8g |
| Sugars | 0.1g |
| Cholesterol | 23.5mg |
| Sodium | 363.9mg |
| Protein | 3.8g |
| Potassium | 42.8mg |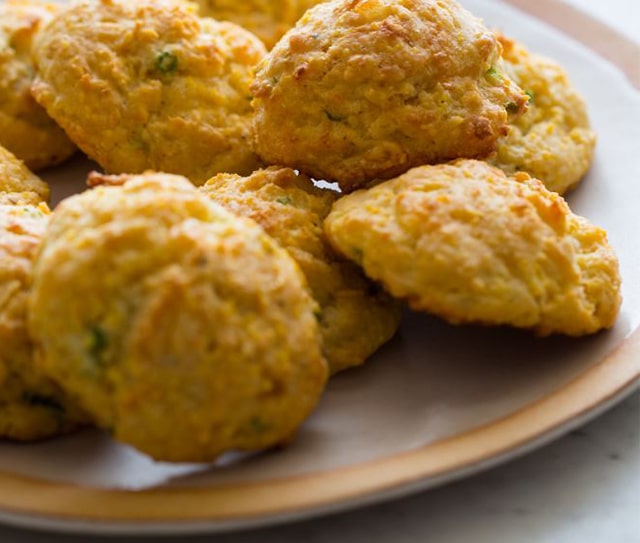 Havarti and Green Onion Cornmeal Biscuits
Nutrition Information
| Nutrient name | Nutrient weight per serving |
| --- | --- |
| Total Fat | 9g |
| Total Carbohydrates | 11.2g |
| Dietary Fiber | 0.8g |
| Sugars | 0.1g |
| Cholesterol | 23.5mg |
| Sodium | 363.9mg |
| Protein | 3.8g |
| Potassium | 42.8mg |
Ingredients
1 1/4 cup all purpose flour
3/4 cup medium grind cornmeal
1 1/2 teaspoons baking powder
1 1/2 teaspoons salt
1/2 teaspoon baking soda
1/2 teaspoon cracked black pepper
1/2 cup (1 stick) unsalted butter, frozen and shredded
4 ounces Havarti, cheese shredded
2 green onions, thinly sliced
1 cup Unsweetened Original Almond Breeze® Almond Beverage
Directions
Preheat oven to 400°F.
Place flour, cornmeal, baking powder, salt, baking soda, and pepper into a mixing bowl and whisk together.
Cut in grated butter until just incorporated and a fine meal forms.
Fold in the Havarti and green onions and gently stir in the almond beverage until no dry spots remain.
Drop 1/4 cup sized scoops onto a baking sheet lined with parchment and bake for 18-20 minutes or until biscuits have lightly browned on top and have cooked through.
Allow biscuits to cool for 7 to 10 minutes before serving.
Made With These Almond Breeze® Products
Looking For Almond Breeze®?