Dairy & Gluten Free Peach Muffins
Nutrition Information
| Nutrient name | Nutrient weight per serving |
| --- | --- |
| Total Fat | 10.3g |
| Total Carbohydrates | 21.7g |
| Dietary Fiber | 4.1g |
| Sugars | 4.8g |
| Cholesterol | 27.3mg |
| Sodium | 204.1mg |
| Protein | 5.3g |
| Potassium | 68.7mg |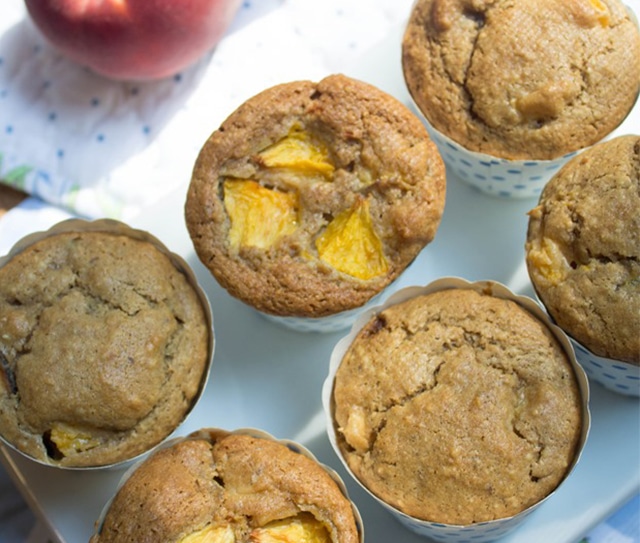 Dairy & Gluten Free Peach Muffins
Nutrition Information
| Nutrient name | Nutrient weight per serving |
| --- | --- |
| Total Fat | 10.3g |
| Total Carbohydrates | 21.7g |
| Dietary Fiber | 4.1g |
| Sugars | 4.8g |
| Cholesterol | 27.3mg |
| Sodium | 204.1mg |
| Protein | 5.3g |
| Potassium | 68.7mg |
Ingredients
2 cups gluten free oat flour
1/2 cup almond flour
1/4 cup ground flax
2 teaspoons baking powder
1 teaspoon baking soda
1/2 cup coconut (or regular) sugar
1/3 cup melted coconut oil
2 eggs
1/2 cup Unsweetened Vanilla Almond Breeze® Almond Beverage
1 1/2 cups diced peaches + more for topping (optional)
Directions
Preheat oven to 350 degrees F.
Whisk together the oat flour, almond flour, flax, baking powder, and baking soda in a large bowl.
In a separate bowl, stir together the coconut sugar and melte
Add the wet ingredients to the dry, stirring until just combined. Add in the diced peaches.
Divide the batter evenly among a muffin tin (greased to prevent sticking, or use paper muffin cups) and top with extra peaches, if desired.
Bake for 20-25 minutes, until a toothpick inserted into the middle of the muffins comes out clean.
Made With These Almond Breeze® Products
Looking For Almond Breeze®?