Frozen Almond Spiced Chai
Nutrition Information
| Nutrient name | Nutrient weight per serving |
| --- | --- |
| Total Fat | 19.5g |
| Total Carbohydrates | 91.6g |
| Dietary Fiber | 2.2g |
| Sugars | 17.9g |
| Cholesterol | 5.8mg |
| Sodium | 432.3mg |
| Protein | 12.8g |
| Potassium | 874.1mg |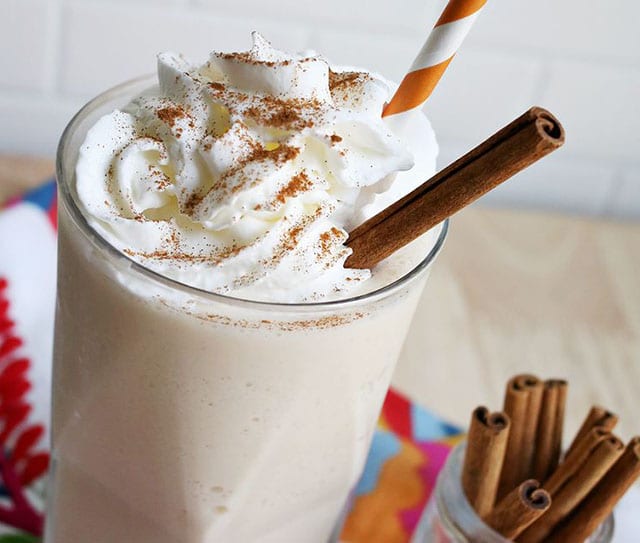 Frozen Almond Spiced Chai
Nutrition Information
| Nutrient name | Nutrient weight per serving |
| --- | --- |
| Total Fat | 19.5g |
| Total Carbohydrates | 91.6g |
| Dietary Fiber | 2.2g |
| Sugars | 17.9g |
| Cholesterol | 5.8mg |
| Sodium | 432.3mg |
| Protein | 12.8g |
| Potassium | 874.1mg |
Ingredients
1 cup Vanilla Almond Breeze® Almond Beverage
2 chai tea bags
Frozen yogurt
Ground nutmeg
Ground cinnamon
Ground ginger
Pure vanilla extract
Honey
Cinnamon sticks, for garnish (optional)
Directions
The day before, freeze some Almond Breeze® into ice cubes. I don't know about you, but I think I almost always prefer almond beverage to regular milk—especially in drinks. It just feels less heavy, and of course I love the added almond flavour. An hour (or more) before making your shake, heat 1 cup Almond Breeze® and let it cool in the fridge with 2 chai tea bags to infuse.
In a blender, combine 1 cup infused Almond Breeze®; 4 scoops frozen yogurt; 6 Almond Breeze® ice cubes; 1 pinch each ground nutmeg, cinnamon, and ginger; 1/4 teaspoon pure vanilla extract; and 1 tablespoon honey. Blend to perfection! Top with whipped cream and cinnamon. Garnish with a cinnamon stick. Enjoy!
Made With These Almond Breeze® Products
Looking For Almond Breeze®?