Creamy Orange Pops
Nutrition Information
| Nutrient name | Nutrient weight per serving |
| --- | --- |
| Total Fat | 3.5g |
| Total Carbohydrates | 16g |
| Sugars | 13g |
| Sodium | 60mg |
| Potassium | 99mg |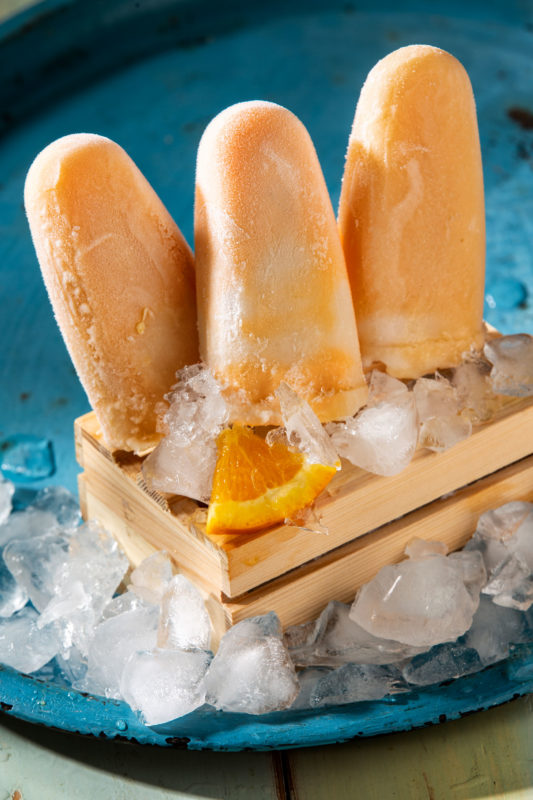 Nutrition Information
| Nutrient name | Nutrient weight per serving |
| --- | --- |
| Total Fat | 3.5g |
| Total Carbohydrates | 16g |
| Sugars | 13g |
| Sodium | 60mg |
| Potassium | 99mg |
Ingredients
1/4 cup sugar
2 tablespoons + 2 teaspoons cornstarch
2 tablespoons butter or coconut oil
1 teaspoon vanilla extract
1/4 cup orange juice concentrate thawed
Directions
Whisk together Almond Breeze, sugar, cornstarch, butter or coconut oil and extract in a small saucepan. Bring to a simmer, whisking frequently. Cook over low heat until mixture has thickened, stirring frequently. Let cool, stirring occasionally.
Place 2/3 of the mixture in a separate bowl and stir in orange juice concentrate. Combine mixture from both bowls and swirl very lightly.
Spoon into ice cream pop molds and insert a handle or stick into each. Freeze overnight.
Made With These Almond Breeze® Products
Looking For Almond Breeze®?