Vegan Chocolate and Zucchini Muffins
Nutrition Information
| Nutrient name | Nutrient weight per serving |
| --- | --- |
| Total Fat | 0.6g |
| Total Carbohydrates | 23g |
| Dietary Fiber | 3.1g |
| Sugars | 8.6g |
| Sodium | 164.2mg |
| Protein | 2.7g |
| Potassium | 83.8mg |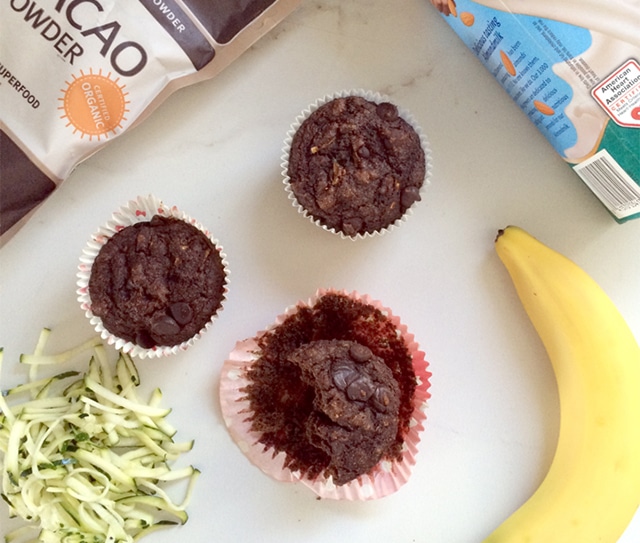 Vegan Chocolate and Zucchini Muffins
Nutrition Information
| Nutrient name | Nutrient weight per serving |
| --- | --- |
| Total Fat | 0.6g |
| Total Carbohydrates | 23g |
| Dietary Fiber | 3.1g |
| Sugars | 8.6g |
| Sodium | 164.2mg |
| Protein | 2.7g |
| Potassium | 83.8mg |
Ingredients
1½ cups whole wheat flour
⅓ cup raw cacao powder
½ cup sweetener like sucanat or coconut sugar
1½ tsp baking powder
¾ tsp baking soda
½ tsp salt
1 mashed ripe banana
½ cup applesauce
¼ cup Unsweetened Original Almond Breeze® Almond Beverage
1 tsp vanilla
1 cup shredded zucchini
Directions
Combine dry ingredients in one bowl. In a separate bowl, mash banana and stir in applesauce, then add in almond beverage, vanilla and zucchini. Combine wet ingredients by folding gently into dry ingredients and mix until just combined. Place in oiled or paper lined muffin tins and fill half way. Bake at 350 for about 15 minutes, sticking with a toothpick to check when baked through.
Made With These Almond Breeze® Products
Looking For Almond Breeze®?