Butter Chicken Samosas
Nutrition Information
No nutritional info available at this time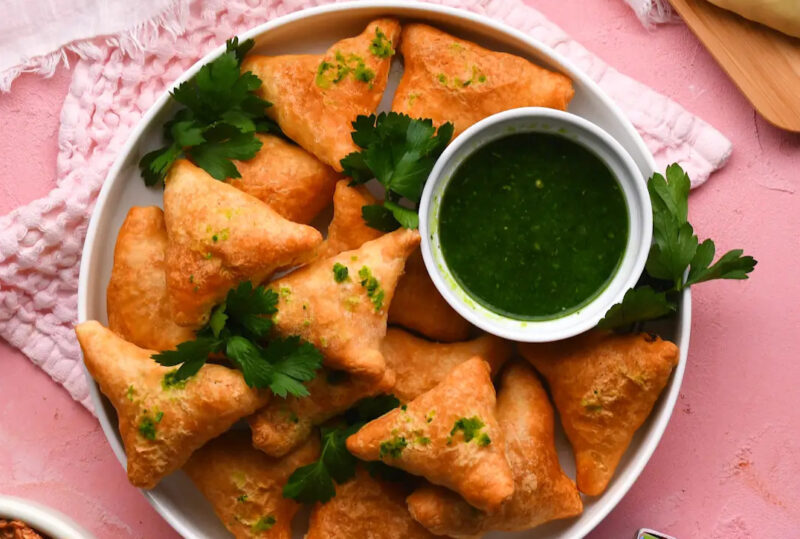 Nutrition Information
No nutritional info available at this time
Ingredients
2 Chicken Breast, cooked
For the sauce:
2 tablespoons olive oil
1 large onion, sliced or chopped
1 1/2 tablespoons garlic, minced
1 1/2 teaspoons ground cumin
1 1/2 teaspoons garam masala
1 teaspoon ground mustard seeds
1 tablespoon salt
1 ½ teaspoons ground pepper
1 tablespoon tomato paste
1 teaspoon red chili powder (adjust to your taste preference)
Store Bought Puff Pastry
Directions
In a bowl, shred cooked chicken breast with a handheld beater. Set aside.
In a pan, add olive oil, let it heat and add diced onion and garlic.
Once the onion is translucent, add the shredder chicken along with all the spices and Almond Breeze Shelf Stable Unsweetened Original Almond Beverage. Stir until well combined.
Once it is all combined, grab a spoon full of the chicken and add it to your puff pastry rounds. Close each round by folding three sides creating a triangle. Seal tightly and place it in an air fryer face down.
Cook at 350 for 10-15 minutes or until golden brown. Safely remove from the air fryer with tongs. Enjoy!
Looking For Almond Breeze®?