Vegan Biscuits and Mushroom Gravy
Nutrition Information
| Nutrient name | Nutrient weight per serving |
| --- | --- |
| Total Fat | 10g |
| Total Carbohydrates | 8g |
| Dietary Fiber | 3g |
| Sugars | 1g |
| Sodium | 170mg |
| Protein | 5g |
| Potassium | 280mg |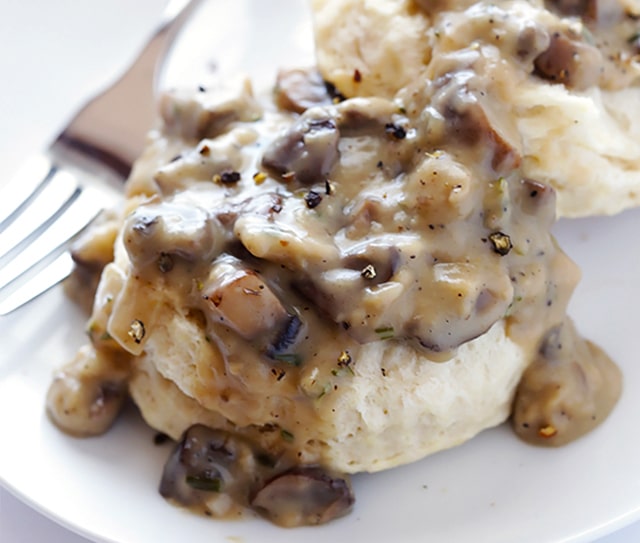 Vegan Biscuits and Mushroom Gravy
Nutrition Information
| Nutrient name | Nutrient weight per serving |
| --- | --- |
| Total Fat | 10g |
| Total Carbohydrates | 8g |
| Dietary Fiber | 3g |
| Sugars | 1g |
| Sodium | 170mg |
| Protein | 5g |
| Potassium | 280mg |
Ingredients
1 batch 3-Ingredient Coconut Oil Biscuits
1/4 cup vegan butter or olive oil (or you can substitute regular butter, if not making these vegan)
8 ounces baby bella mushrooms, diced into 1/4-inch cubes
1 small shallot, peeled and finely chopped (about 1/4 cup)
1 clove garlic, minced
1/4 cup white whole wheat (or all-purpose) flour
1/2 cup vegetable stock
1 1/3 cup Almond Breeze® Original Almond Beverage (or Original Unsweetened almond beverage)
1 teaspoon finely-minced fresh rosemary
1/2 teaspoon salt
1/2 teaspoon freshly-cracked black pepper
Directions
Make the 3-Ingredient Coconut Oil Biscuits according to directions here: http://www.gimmesomeoven.com/3-ingredient-coconut-oil-biscuits-recipe/
While the biscuits are baking, melt butter in a large saute pan over medium-high heat. Add mushrooms and stir to coat. Then saute the mushrooms for 4-5 minutes, stirring occasionally, until cooked and softened. Add shallot and garlic, and cook for an additional 2-3 minutes, stirring occasionally, until the shallot is cooked and softened. Sprinkle the mixture with the flour, and stir to combine. Cook for 1 minute. Stir in the vegetable stock until combined. Then add in the remaining ingredients, and stir until completely combined.
Bring the sauce to a simmer. Then reduce heat to medium-low and continue simmering until the gravy reaches your desired thickness, about 1-5 minutes (depending on how thin you like your gravy), stirring occasionally. Taste, and season with additional salt, pepper and/or rosemary if needed. Remove from heat and serve the gravy ladled over the warm biscuits, topped with an additional sprinkle of black pepper if desired.
Looking For Almond Breeze®?