Apple Crisp Macchiato
Nutrition Information
| Nutrient name | Nutrient weight per serving |
| --- | --- |
| Total Fat | 5g |
| Total Carbohydrates | 45g |
| Dietary Fiber | 1g |
| Sugars | 41g |
| Sodium | 230mg |
| Protein | 1g |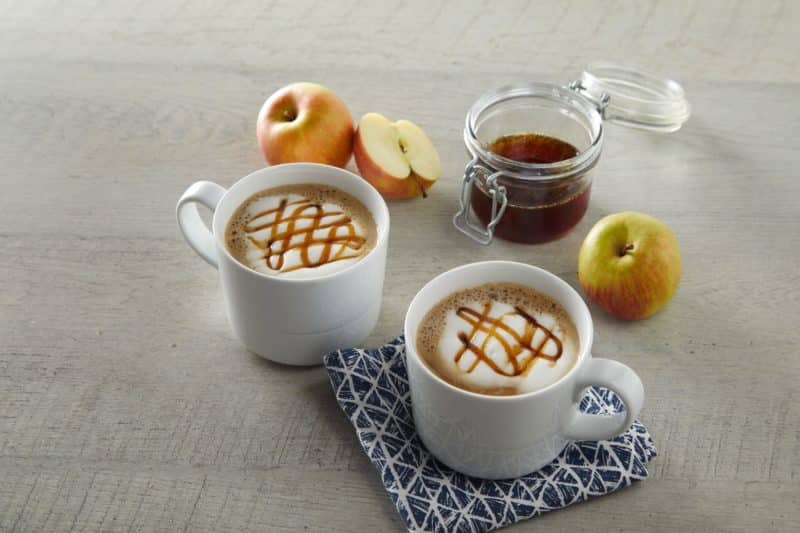 Nutrition Information
| Nutrient name | Nutrient weight per serving |
| --- | --- |
| Total Fat | 5g |
| Total Carbohydrates | 45g |
| Dietary Fiber | 1g |
| Sugars | 41g |
| Sodium | 230mg |
| Protein | 1g |
Ingredients
½ cup apple juice
¾ cup brown sugar, divided
2 cinnamon sticks
¼ tsp. ground nutmeg
¼ cup apple, chopped
¼ cup water
3½ cups Almond Breeze Unsweetened Original Almond Beverage
½ cup caramel creamer
8 shots espresso
Directions
In a small saucepan, combine apple juice, ½ cup brown sugar, cinnamon sticks, nutmeg and apple. Bring to a boil, then reduce heat to a simmer and cook for about 20 minutes.
Remove from heat and allow to cool to room temperature. Strain and pour into a glass with a spout; set aside.
In a microwave safe bowl, combine remaining ¼ cup brown sugar and water together. Microwave about 30 seconds, until brown sugar is dissolved. Pour equal amounts of syrup into 4 mugs.
In a small saucepan, combine almond beverage and creamer. Bring to just a boil, then remove from heat. Use a milk frother to froth almond beverage mixture. Pour frothed almond beverage over brown sugar syrup and spoon froth over the almond beverage.
Pour 2 shots of espresso over each mug. Drizzle apple crisp syrup over the foam in the desired pattern.
Serve.
Made With These Almond Breeze® Products
Looking For Almond Breeze®?