Apple-Cinnamon & Almond Smoothie
Nutrition Information
| Nutrient name | Nutrient weight per serving |
| --- | --- |
| Total Fat | 13g |
| Total Carbohydrates | 54g |
| Dietary Fiber | 6g |
| Sugars | 37g |
| Sodium | 95mg |
| Protein | 8g |
| Potassium | 790mg |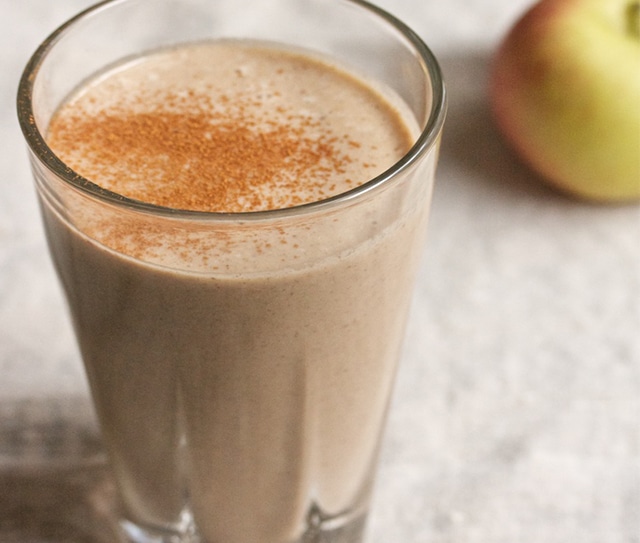 Apple-Cinnamon & Almond Smoothie
Nutrition Information
| Nutrient name | Nutrient weight per serving |
| --- | --- |
| Total Fat | 13g |
| Total Carbohydrates | 54g |
| Dietary Fiber | 6g |
| Sugars | 37g |
| Sodium | 95mg |
| Protein | 8g |
| Potassium | 790mg |
Ingredients
1/4 teaspoon cinnamon - plus more for garnish
1 sweet apple - cored (I like Fuji) with skin left on if you've got a powerful blender
Half of a ripe banana
1 teaspoon honey; preferably raw
2/3 – 3/4 cup Almond Breeze® Unsweetened Vanilla Almond Beverage(or for extra creaminess use Almond Breeze® Unsweetened Almond Cashew Blend Vanilla)
1 tablespoon creamy roasted almond butter
1 ice cube
1/2 teaspoon chia seeds
Directions
Combine the cinnamon, apple, banana, honey, 2/3 cup almond beverage, and almond butter in a high-powered blender. Blend, starting on low and moving to high, for 2 minutes, or until all the grit of the apple is smooth.
Add the ice cube and the chia and blend again. Add a little more of the almond beverage if you like your smoothie on the milky side. Serve, sprinkled with cinnamon.
Made With These Almond Breeze® Products
Looking For Almond Breeze®?