Zucchini Bread Ice Cream
Nutrition Information
| Nutrient name | Nutrient weight per serving |
| --- | --- |
| Total Fat | 5.3g |
| Total Carbohydrates | 13.6g |
| Dietary Fiber | 1.3g |
| Sugars | 2.5g |
| Sodium | 54.5mg |
| Protein | 1.6g |
| Potassium | 131.1mg |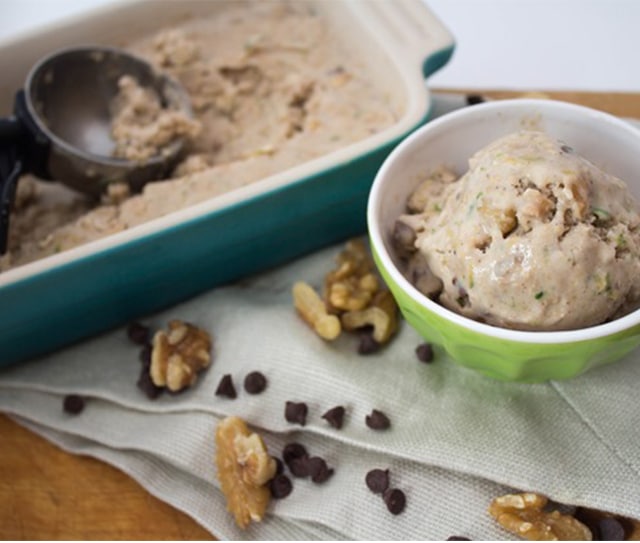 Nutrition Information
| Nutrient name | Nutrient weight per serving |
| --- | --- |
| Total Fat | 5.3g |
| Total Carbohydrates | 13.6g |
| Dietary Fiber | 1.3g |
| Sugars | 2.5g |
| Sodium | 54.5mg |
| Protein | 1.6g |
| Potassium | 131.1mg |
Ingredients
1/2 cup old fashioned or quick oats
1 & 1/2 cups Almond Breeze® Unsweetened Vanilla Almond Beverage(or for extra creaminess use Almond Breeze® Unsweetened Almond Cashew Blend Vanilla)
1 cup finely shredded zucchini (about 1 medium zucchini)
1/2 cup coconut or granulated sugar
1 teaspoon vanilla extract
1 (14 oz) can coconut milk
Optional mix-ins: 1/4 cup mini chocolate chips
Directions
Combine oats, Almond Breeze®, zucchini, sugar, and vanilla in a medium saucepan. Cook over medium-high heat for 5-10 minutes, until mixture thickens and oats are cooked.
Remove from heat and add in coconut milk.
Pour the mixture in a shallow dish and allow to cool completely in the fridge, at least 1 hour.
Spin the mixture in an ice cream machine, following manufacturer's directions -- OR freeze in shallow dish, stirring every 30-45 minutes, until firm (about 3 hours).
Serve immediately or transfer the ice cream to a freezer safe covered container and store in the freezer. Homemade ice cream is best served the same day; if keeping in the freezer, let the ice cream soften at room temperature for 15 minutes before serving.
Notes
This gluten and dairy free ice cream is the perfect frozen treat to use up that summer zucchini from your garden. It's creamy, cold, and refreshing – and tastes just like zucchini bread!
Made With These Almond Breeze® Products
Looking For Almond Breeze®?