Creamy Pasta Chicken and Sundried Tomatoes
Nutrition Information
| Nutrient name | Nutrient weight per serving |
| --- | --- |
| Total Fat | 16.1g |
| Total Carbohydrates | 54.8g |
| Dietary Fiber | 10.1g |
| Sugars | 10.8g |
| Cholesterol | 73.6mg |
| Sodium | 1091.2mg |
| Protein | 37.6g |
| Potassium | 1281.7mg |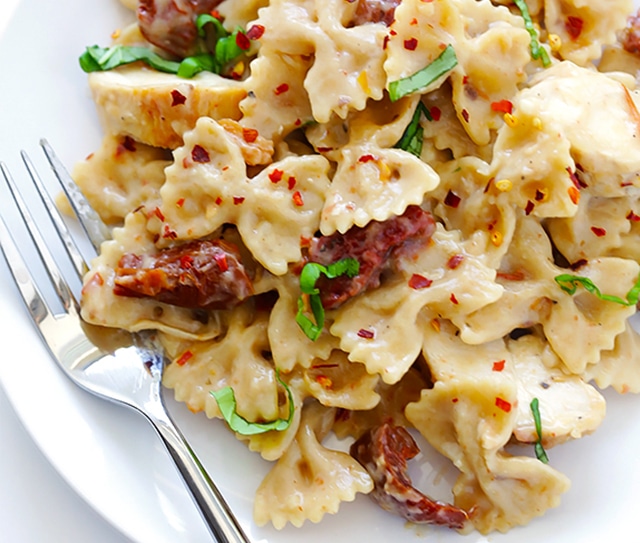 Creamy Pasta Chicken and Sundried Tomatoes
Nutrition Information
| Nutrient name | Nutrient weight per serving |
| --- | --- |
| Total Fat | 16.1g |
| Total Carbohydrates | 54.8g |
| Dietary Fiber | 10.1g |
| Sugars | 10.8g |
| Cholesterol | 73.6mg |
| Sodium | 1091.2mg |
| Protein | 37.6g |
| Potassium | 1281.7mg |
Ingredients
12 ounces whole wheat pasta (I used farfalle, aka "bow tie" pasta)
2 cooked chicken breasts, cut into bite-sized pieces
1 (6-ounce) jar sun-dried tomatoes, drained and chopped
1/3 cup chopped or julienned fresh basil, loosely-packed
Crushed red pepper flakes, extra Parmesan, toasted pine nuts (optional toppings)
1 tablespoon butter or olive oil
5 cloves garlic, pressed or minced
3 tablespoons all-purpose flour
2 cups Almond Breeze® Original Unsweetened Almond Beverage
1/2 cup freshly-grated Parmesan cheese
1/2 teaspoon salt
1/4 teaspoon black pepper
Directions
Cook pasta in a large stockpot of (generously) salted water according to package instructions. Drain and set aside.
While the pasta water is heating, begin making your cream sauce. (See instructions below.) Once the sauce and pasta are cooked, toss them together with the chopped chicken breasts, sun-dried tomatoes and half of the fresh basil until evenly combined. Serve immediately, garnished with the remaining fresh basil and optional toppings (if desired).
Cream Sauce: Heat olive oil (or butter) in a large saute pan over medium-high heat. Add garlic and saute 1-2 minutes, stirring occasionally, until fragrant. Stir in the flour, and saute for an additional minute, stirring occasionally.
Slowly add in the almond beverage, whisking to combine until smooth. Continue cooking until the mixture reaches a simmer and thickens. Stir in Parmesan cheese, salt and pepper until the cheese is melted. Reduce heat to low until pasta reaches al dente and you are ready to toss the sauce with the pasta.
Made With These Almond Breeze® Products
Looking For Almond Breeze®?