Mint Mocha Shake with Coffee Ice Cubes
Nutrition Information
| Nutrient name | Nutrient weight per serving |
| --- | --- |
| Total Fat | 25.3g |
| Total Carbohydrates | 77.8g |
| Dietary Fiber | 0.5g |
| Sugars | 38.5g |
| Cholesterol | 2.9mg |
| Sodium | 200.3mg |
| Protein | 6.3g |
| Potassium | 393.8mg |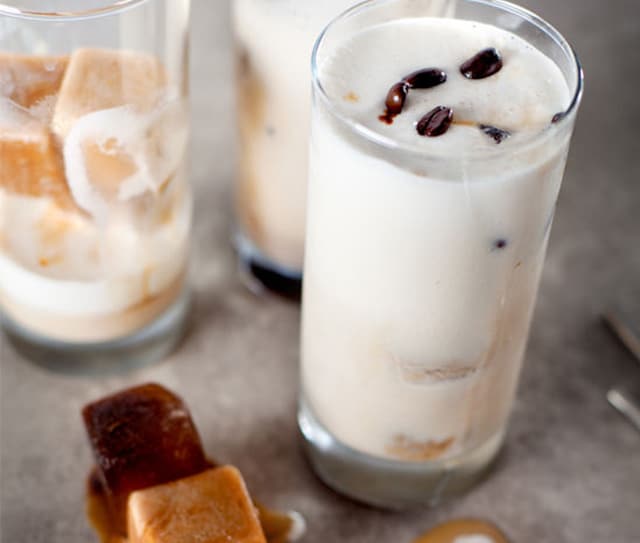 Mint Mocha Shake with Coffee Ice Cubes
Nutrition Information
| Nutrient name | Nutrient weight per serving |
| --- | --- |
| Total Fat | 25.3g |
| Total Carbohydrates | 77.8g |
| Dietary Fiber | 0.5g |
| Sugars | 38.5g |
| Cholesterol | 2.9mg |
| Sodium | 200.3mg |
| Protein | 6.3g |
| Potassium | 393.8mg |
Ingredients
1 Cup vanilla Almond Breeze® Almond Beverage, divided
2 Cups water
8 Tablespoons coffee, ground
1/2 Cup semi-sweet chocolate chips
2 Tablespoons fresh mint, fine chop
1 pint vanilla frozen yogurt or sorbet
Directions
Brew coffee and let cool to room temperature.
Pour into ice cube mold. Freeze 4-6 hours or overnight is best.
Over a double broiler, melt chocolate with ½ cup vanilla Almond Breeze® stirring constantly until melted and smooth. Stir in mint. Let cool.
In a blender, combine frozen yogurt and remaining ½ cup vanilla Almond Breeze®. Blend until thick and smooth.
Assemble by drizzling mint chocolate sauce on the bottom of a glass. Add coffee ice cubes and then pour in shake. Garnish with espresso beans, mint, or chocolate sauce.
Made With These Almond Breeze® Products
Looking For Almond Breeze®?