Chocolate Coconut Smoothie Bowl
Nutrition Information
| Nutrient name | Nutrient weight per serving |
| --- | --- |
| Total Fat | 8g |
| Total Carbohydrates | 37g |
| Dietary Fiber | 5g |
| Sugars | 26g |
| Sodium | 150mg |
| Protein | 4g |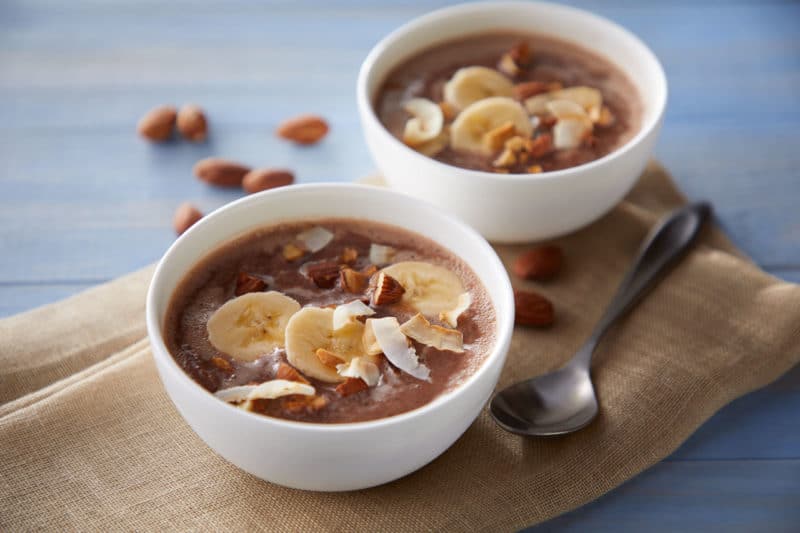 Chocolate Coconut Smoothie Bowl
Nutrition Information
| Nutrient name | Nutrient weight per serving |
| --- | --- |
| Total Fat | 8g |
| Total Carbohydrates | 37g |
| Dietary Fiber | 5g |
| Sugars | 26g |
| Sodium | 150mg |
| Protein | 4g |
Ingredients
3½ cups Almond Breeze Chocolate Almond Beverage or Unsweetened Chocolate Almond Beverage; divided
2 bananas; cut into chunks and frozen
4 tsp. cocoa powder
¼ cup toasted flaked coconut
¼ cup chopped toasted almonds
Directions
Fill 12 compartments of an ice cube tray with 1½ cups almond beverage; freeze until firm.
For each smoothie, combine 3 cubes frozen almond beverage, ½ cup almond beverage, half a banana, 1 teaspoon cocoa powder; process until smooth.
Add additional almond beverage to adjust to desired consistency. Pour into a small bowl and top with 1 tablespoon toasted coconut and 1 tablespoon chopped almonds. Serve immediately.
Made With These Almond Breeze® Products
Looking For Almond Breeze®?