Meal Prep Rainbow Breakfast Smoothies
Nutrition Information
No nutritional info available at this time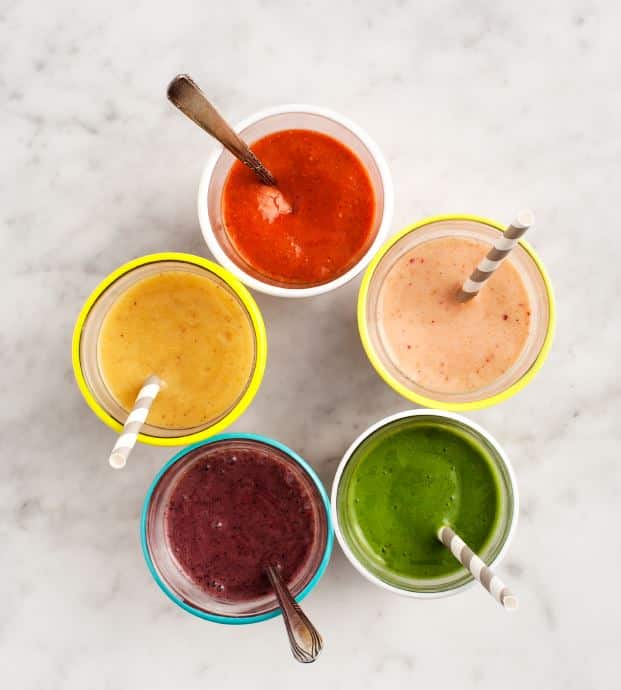 Meal Prep Rainbow Breakfast Smoothies
Nutrition Information
No nutritional info available at this time
Ingredients
Strawberry Goji
Big handful of strawberries sliced
¼ cup dried goji berries
Peach
1 peach sliced
Handful of raspberries
½ tablespoon almond butter
Mango Maca
Slices from ½ of a large mango
1 peach sliced
1 teaspoon maca powder
Spinach & Mango
Slices from ½ of a large mango
Handful of fresh spinach
1-2 teaspoons matcha
Cherry Blueberry Cacao
⅓ cup tart cherries
⅓ cup blueberries
½ 1 tablespoon raw cacao powder
Blend Each Smoothie With:
½ - ¾ cup Almond Breeze Original Almond Beverage
A few pieces of ice
1/2 frozen banana
Directions
Assemble ½ banana into each freezer container (or freezer safe baggie). Add fruits/vegetables, then place your containers into the freezer until you're ready to blend each one.
Blend each smoothie with a few pieces of ice and ½ cup to ¾ cup almond beverage (enough almond beverage to get your blender blade moving).
Blend in "extras" (goji berries, almond butter, maca, matcha, cacao) at the end.
Made With These Almond Breeze® Products
Looking For Almond Breeze®?