Marinated Flank Steak
Nutrition Information
| Nutrient name | Nutrient weight per serving |
| --- | --- |
| Total Fat | 18g |
| Total Carbohydrates | 6g |
| Sugars | 5g |
| Sodium | 213mg |
| Protein | 23g |
| Potassium | 478mg |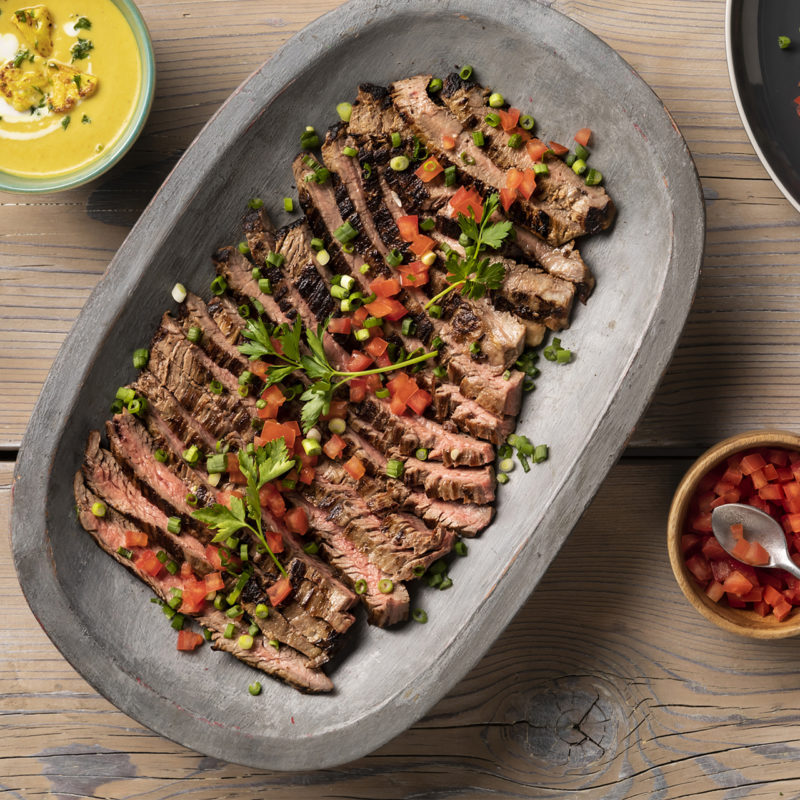 Nutrition Information
| Nutrient name | Nutrient weight per serving |
| --- | --- |
| Total Fat | 18g |
| Total Carbohydrates | 6g |
| Sugars | 5g |
| Sodium | 213mg |
| Protein | 23g |
| Potassium | 478mg |
Ingredients
3 Medjool dates pitted and softened if necessary by soaking in very hot water
2 tbsp water
1 tbsp spicy brown mustard
1 tbsp raw apple cider vinegar
2 cloves garlic
1/4 tsp onion powder
1/4 tsp smoked paprika
black pepper or crushed red pepper flakes for spice
1/4 tsp sea salt
1/4 cup olive oil or avocado oil
1.5 lbs flank steak
fresh chives chopped for garnish
Directions
Combine all marinade ingredients in a high speed blender except for the olive oil. Puree ingredients and then add the olive oil with the blender running on low speed.
Score the steak all over with a knife, place in a large bowl and pour all of the marinade over the steak, turning to completely coat. Cover tightly in plastic wrap and marinate for at least 2 hours, or overnight if desired.
Once ready to grill, preheat grill to medium high heat. Remove most of the marinade from the steak, leaving a very thin coating. The rest of the marinade can either be discarded, or boiled into a sauce for the steak.
Place the steak on the hot grill and turn after the first side is browned with visible grill lines, repeat on the second side. Lower the heat to medium, cover the grill and continue to cook until steak is done to preference, turning once. You may use a meat thermometer for precise temperature measurements.
Once done, remove the steak from the grill and place onto a large platter. Cover loosely with aluminum foil for 5-10 minutes to rest. Then, using a fork and long sharp knife cut the steak against the grain into 1/2 slices on a slight angle and serve.
Made With These Almond Breeze® Products
Looking For Almond Breeze®?