Baked Pretzel Doughnuts
Nutrition Information
| Nutrient name | Nutrient weight per serving |
| --- | --- |
| Total Fat | 3.5g |
| Total Carbohydrates | 39g |
| Dietary Fiber | 1.8g |
| Sugars | 12.3g |
| Sodium | 380.6mg |
| Protein | 4g |
| Potassium | 64.6mg |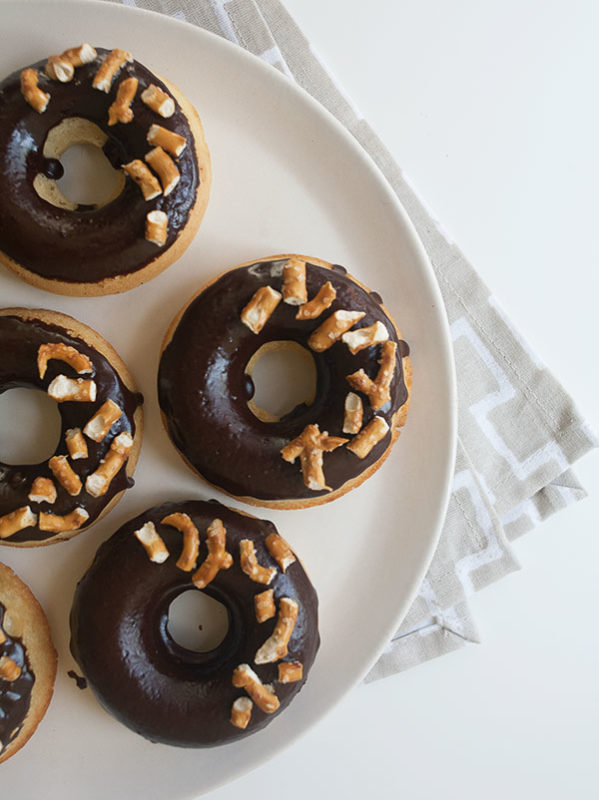 Nutrition Information
| Nutrient name | Nutrient weight per serving |
| --- | --- |
| Total Fat | 3.5g |
| Total Carbohydrates | 39g |
| Dietary Fiber | 1.8g |
| Sugars | 12.3g |
| Sodium | 380.6mg |
| Protein | 4g |
| Potassium | 64.6mg |
Ingredients
1 1/4 cups, 2 tablespoons, plus 2 teaspoons Original Unsweetened Almond Breeze® Almond Beverage
1 cup pretzels
2 cups all-purpose flour
1/2 cups white granulated sugar
2 teaspoons baking powder
1/4 teaspoon salt
1 large egg
2 tablespoons vegetable oil
1/4 cup, plus 2 tablespoons, powdered sugar
1/4 cup cocoa powder
Handful of pretzels, crushed
2 teaspoons light corn syrup (optional)
Directions
In a medium-sized bowl, pour in the almond beverage and add the pretzels. Transfer the bowl to the fridge to steep for 2 hours. At the 2-hour mark, the pretzels should be softened and the almond beverage should taste exactly like pretzels. Give it a taste! If it needs more time, let it steep for an additional 30 minutes.
Transfer the almond beverage mixture to the blender and pulse until sloshy. Run the mixture through a sieve to strain. You should end up with a scant cup of almond beverage. Spray a doughnut pan with cooking spray and set aside.
Preheat the oven to 350 degrees F. In a medium bowl, whisk together the dry ingredients: all-purpose flour, sugar, baking powder and salt. To the almond beverage, whisk in the egg and vegetable oil. In one batch, pour the wet ingredients into the bowl with the dry ingredients. Mix until just combined. Fill each cavity in the doughnut pan about 3/4 of the way. Give a smack on the counter to even out the batter and transfer to the oven to bake for 10 to 12 minutes, until the doughnuts spring back when poked.
Allow to cool in the pan for about 5 minutes. Invert the doughnuts and allow them to cool on a baking rack. Repeat the filling and baking process until you've worked your way through the remainder of the batter. You should end up with 12 doughnuts.
While the last batch of doughnuts is cooling, make the glaze. In a medium bowl, whisk together the powdered sugar, cocoa powder, almond beverage and corn syrup. The corn syrup isn't absolutely necessary but I do love the shine it gives the glaze. Dunk each doughnut into the glaze and immediately top with a sprinkling of crushed pretzels.
Made With These Almond Breeze® Products
Looking For Almond Breeze®?