Blueberry Date Shake
Nutrition Information
| Nutrient name | Nutrient weight per serving |
| --- | --- |
| Total Fat | 6g |
| Total Carbohydrates | 54g |
| Dietary Fiber | 7g |
| Sugars | 42g |
| Protein | 5g |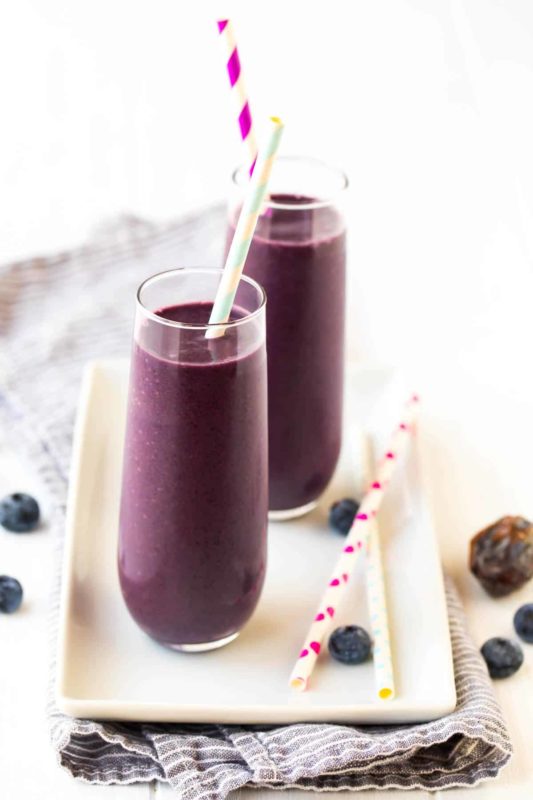 Nutrition Information
| Nutrient name | Nutrient weight per serving |
| --- | --- |
| Total Fat | 6g |
| Total Carbohydrates | 54g |
| Dietary Fiber | 7g |
| Sugars | 42g |
| Protein | 5g |
Ingredients
2 medium bananas cut into chunks and frozen (about 8 ounces or 1 1/2 cups slices)
1 cup frozen blueberries (about 4 ounces)
3 pitted Medjool dates plus additional to taste
1 tablespoon almond butter plus additional to taste
1/2 teaspoon pure vanilla extract
1 cup Almond Breeze Unsweetened Vanilla Almond Beverage
2-3 ice cubes (optional)
Directions
Place the banana, blueberries, dates, almond butter, vanilla extract, and almond beverage in a high powered blender (if you do not have a high-powered blender, blend the almond beverage and half of the frozen fruit first, then slowing add the rest of the fruit and remaining ingredients). Blend until smooth. If you would like the shake a bit thicker, add a few ice cubes and blend again. Taste and add additional almond butter if you'd like the shake a little richer or another date if you'd like it sweeter. Pour and enjoy!
Made With These Almond Breeze® Products
Looking For Almond Breeze®?