Banana Ice Cream
Nutrition Information
| Nutrient name | Nutrient weight per serving |
| --- | --- |
| Total Fat | 0.7g |
| Total Carbohydrates | 39.2g |
| Dietary Fiber | 3.2g |
| Sugars | 25.7g |
| Sodium | 60.3mg |
| Protein | 1.4g |
| Potassium | 469.6mg |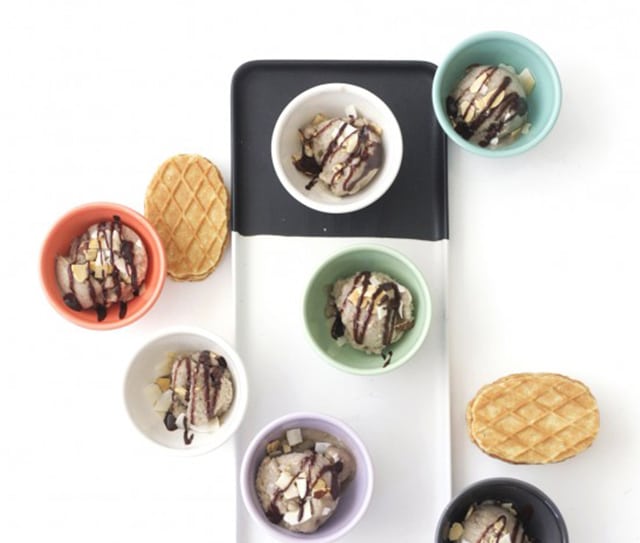 Nutrition Information
| Nutrient name | Nutrient weight per serving |
| --- | --- |
| Total Fat | 0.7g |
| Total Carbohydrates | 39.2g |
| Dietary Fiber | 3.2g |
| Sugars | 25.7g |
| Sodium | 60.3mg |
| Protein | 1.4g |
| Potassium | 469.6mg |
Ingredients
4 ripe bananas
1/2 cup Almond Breeze® Almond Beverage(Unsweetened or Sweetened depending on your sweet tooth)
2 tablespoons maple syrup
1 tablespoon honey
1 teaspoon vanilla extract
1 vanilla bean
Pinch of salt
Directions
Now I warned you about the ice cream maker. But you will see how easy this recipe and so many others will be if you have one and if you don't…well I have a suggestion for you at the end, so sit tight.
Combine all of the ingredients in a blender and before you blend, slice the vanilla bean lengthwise and then run a knife down the inside of the bean to extract the seeds. Add these to the other ingredients in the blender and blend until smooth. Transfer ingredients into said ice cream maker and voilà. It's that easy. Literally I think going to the grocery store is the hardest part of the recipe. You may want to keep the ice cream in the freezer until just before you serve. This stuff melts fast!
If you don't have an ice cream maker, you can slice the bananas into thin pieces and freeze on parchment lined baking sheets, preferably overnight. Add these and the rest of the ingredients into a blender blend until smooth and serve immediately. This will have a bit more of a soft serve texture, but still really delicious!
Made With These Almond Breeze® Products
Looking For Almond Breeze®?