Hot Honey Cornflake Chicken
Nutrition Information
| Nutrient name | Nutrient weight per serving |
| --- | --- |
| Total Fat | 6.7g |
| Total Carbohydrates | 42.8g |
| Protein | 24.5g |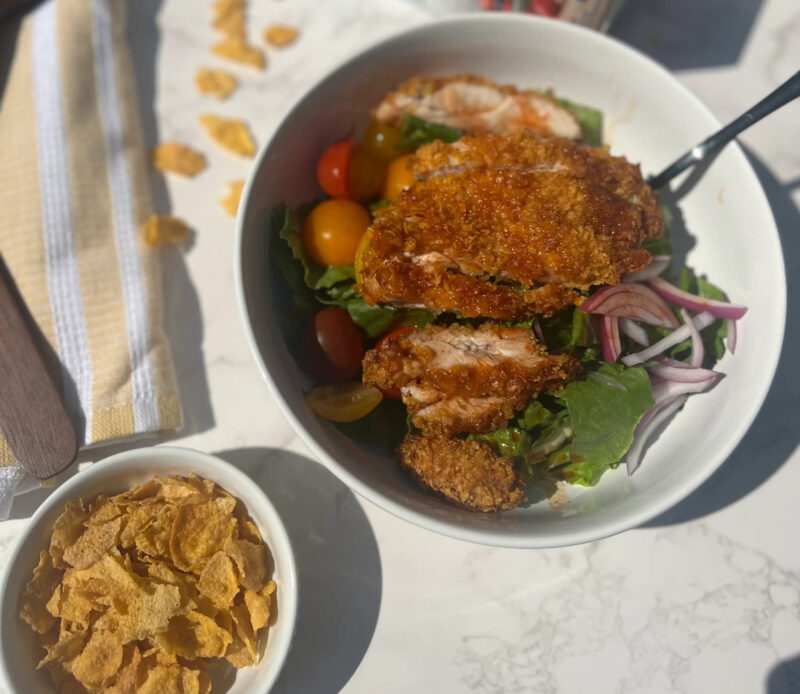 Hot Honey Cornflake Chicken
Nutrition Information
| Nutrient name | Nutrient weight per serving |
| --- | --- |
| Total Fat | 6.7g |
| Total Carbohydrates | 42.8g |
| Protein | 24.5g |
Ingredients
For the cornflake mixture:
4 cups cornflakes
1 c. of paprika
1/2 teaspoon onion powder
1/2 teaspoon garlic powder
1/2 teaspoon ground black pepper
1/2 teaspoon salt
For the chicken:
Hot honey dressing:
1/4 cup hot honey
2 tbsp hot sauce (substitute for Cholula)
Directions
Preheat your oven to 400 degrees F.
Add cornflakes to a food processor and pulse until they are a fine crumb, move to a mixing bowl and whisk in all of your seasonings.
In a separate bowl whisk together Almond Breeze Unsweetened Vanilla Almond Beverage and eggs, set aside.
Line a baking sheet with an oven safe wire metal rack and spray with nonstick cooking spray.
Add your chicken to the rack and spray with cooking spray, bake for 20-25 minutes until cooked through.
To make the dressing, add the hot honey and hot sauce together in a microwave safe bowl and heat for 10 seconds, drizzle over chicken or on top of your favorite salad!
Looking For Almond Breeze®?