Morning Mocha Smoothie Recipe with Coffee Ice Cubes
Nutrition Information
| Nutrient name | Nutrient weight per serving |
| --- | --- |
| Total Fat | 25.3g |
| Total Carbohydrates | 77.8g |
| Sugars | 38.5g |
| Sodium | 200.3mg |
| Protein | 6.3g |
| Potassium | 393.8mg |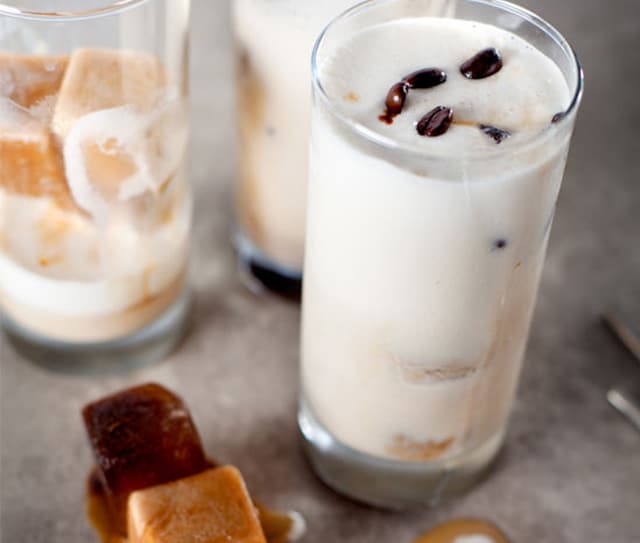 Morning Mocha Smoothie Recipe with Coffee Ice Cubes
Nutrition Information
| Nutrient name | Nutrient weight per serving |
| --- | --- |
| Total Fat | 25.3g |
| Total Carbohydrates | 77.8g |
| Sugars | 38.5g |
| Sodium | 200.3mg |
| Protein | 6.3g |
| Potassium | 393.8mg |
Ingredients
1 cup Almond Breeze Vanilla Almond Beverage, divided
2 cups water
8 Tablespoons ground coffee
1/2 cup semi-sweet chocolate chips
2 Tablespoons finely chopped fresh mint
1 pint vanilla frozen yogurt or sorbet
Espresso beans (optional garnish)
Mint (optional garnish)
Chocolate sauce (optional garnish)
Directions
Brew coffee and let cool to room temperature.
Pour into an ice cube mold. Freezing 4-6 hours or overnight is best.
Over a double broiler, melt chocolate with ½ cup vanilla almond beverage, stirring constantly until melted and smooth. Stir in mint. Let cool.
In a blender, combine frozen yogurt and remaining ½ cup vanilla almond beverage. Blend until thick and smooth.
Assemble by drizzling mint chocolate sauce on the bottom of a glass. Add coffee ice cubes and then pour in milkshakes. Garnish with espresso beans, cocoa dusted almonds, mint, or chocolate sauce.
Made With These Almond Breeze® Products
Looking For Almond Breeze®?