Creamy Shakshuka
Nutrition Information
| Nutrient name | Nutrient weight per serving |
| --- | --- |
| Dietary Fiber | 6.6g |
| Sugars | 14.3g |
| Sodium | 1456.7mg |
| Protein | 18.7g |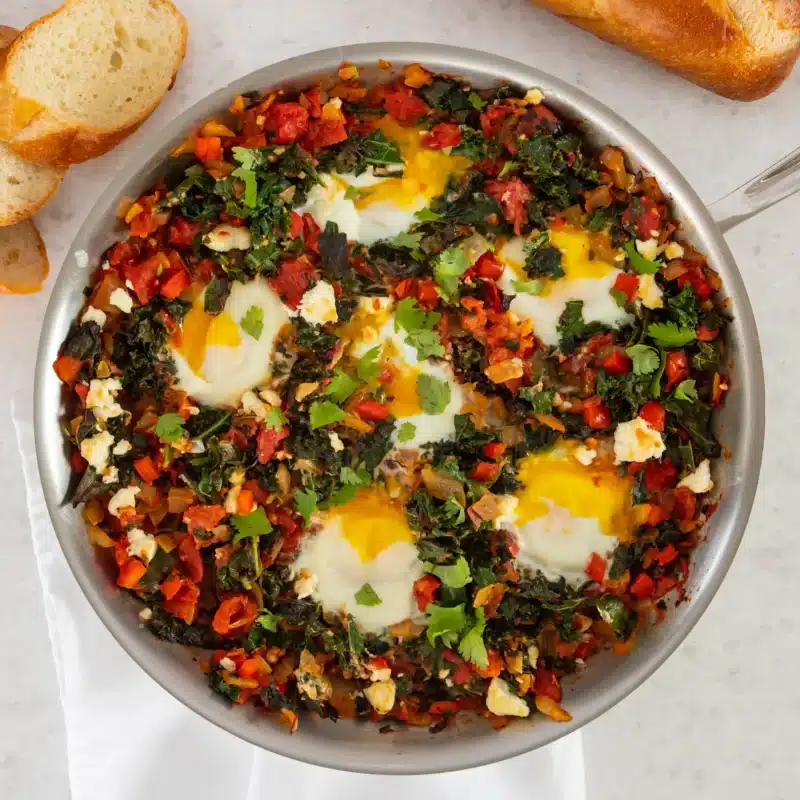 Nutrition Information
| Nutrient name | Nutrient weight per serving |
| --- | --- |
| Dietary Fiber | 6.6g |
| Sugars | 14.3g |
| Sodium | 1456.7mg |
| Protein | 18.7g |
Ingredients
2 tablespoons extra-virgin olive oil
2 small yellow onions (or 1 medium), peeled and diced
1 bell pepper (red, orange or yellow), diced
3 cloves garlic, roughly chopped
1 (28-ounce) can diced tomatoes, with juices
1½ teaspoons salt, divided
1 teaspoon white sugar
1 teaspoon ground cumin
1 teaspoon ground coriander
¾ teaspoon smoked paprika
¼ teaspoon crushed red pepper flakes
2 cups finely chopped greens, tough ribs removed and leaves gently packed (such as Swiss chard, kale, or spinach)
3 ounces feta cheese, crumbled
6 eggs
Chopped fresh cilantro
Bread for dipping
Directions
Heat oil in an oven-proof skillet over medium-low heat; add onions, bell pepper, and garlic and cook, uncovered, until softened, about 8 minutes.
Add tomatoes, 1 teaspoon salt, sugar, cumin, coriander, paprika, and red pepper flakes to onion mixture; cook, uncovered and stirring occasionally, until sauce is slightly thickened, about 10 minutes.
Add the chopped greens and almond beverage to sauce and continue cooking, uncovered and stirring occasionally, until the greens are soft and wilted, about 10 minutes more.
Set an oven rack in the top position and preheat the broiler.
Remove skillet from heat and using a spoon, make 6 wells or indentations in the sauce. Carefully crack an egg into each well, then spoon a bit of the sauce over each of the egg whites being careful not to disturb the yolks. This will encourage the whites to start cooking and stay in their place. Sprinkle remaining salt over eggs and feta around the eggs.
Set the skillet on the stove over low heat and cover with a lid. Cook until the egg whites are mostly set but still translucent on top, 4 to 6 minutes.
Remove the lid, transfer the skillet to the oven directly under the broiler and broil until the eggs are cooked, 1 minute or less for runny yolks and 1 to 2 minutes more for cooked.
Sprinkle cilantro over shakshuka and serve with bread.
Made With These Almond Breeze® Products
Looking For Almond Breeze®?