Coconut Almond Tea Smoothies with Boba
Nutrition Information
| Nutrient name | Nutrient weight per serving |
| --- | --- |
| Total Fat | 1.5g |
| Total Carbohydrates | 17g |
| Dietary Fiber | 0.5g |
| Sugars | 3g |
| Sodium | 92.5mg |
| Protein | 0.5g |
| Potassium | 90mg |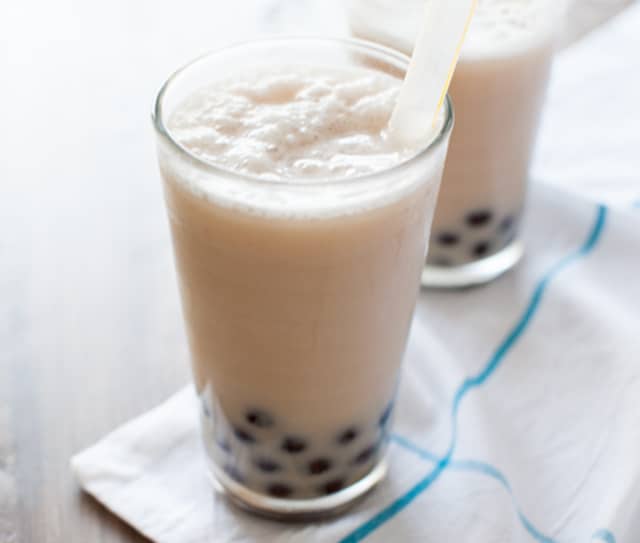 Coconut Almond Tea Smoothies with Boba
Nutrition Information
| Nutrient name | Nutrient weight per serving |
| --- | --- |
| Total Fat | 1.5g |
| Total Carbohydrates | 17g |
| Dietary Fiber | 0.5g |
| Sugars | 3g |
| Sodium | 92.5mg |
| Protein | 0.5g |
| Potassium | 90mg |
Ingredients
8 ounces prepared black tea (or any other tea that you like), allow to cool
1 cup Almond Breeze® Original Almond Coconut Blend
2 1/2 to 3 cups ice
2 teaspoons coconut extract (optional)
Boba (optional)
Directions
Add tea, Almond Breeze® Original Almond Coconut Blend, ice and coconut extract to a blender. Blend until blended and ice is grounded up. If you're using boba, use a slotted spoon to add boba to two glasses. Pour smoothie over boba and serve with large straws.
Notes
Boba in this drink is completely optional! You can get the instructions on how to make boba and it includes a video too!
Made With These Almond Breeze® Products
Looking For Almond Breeze®?