Carrot Cake Smoothie
Nutrition Information
No nutritional info available at this time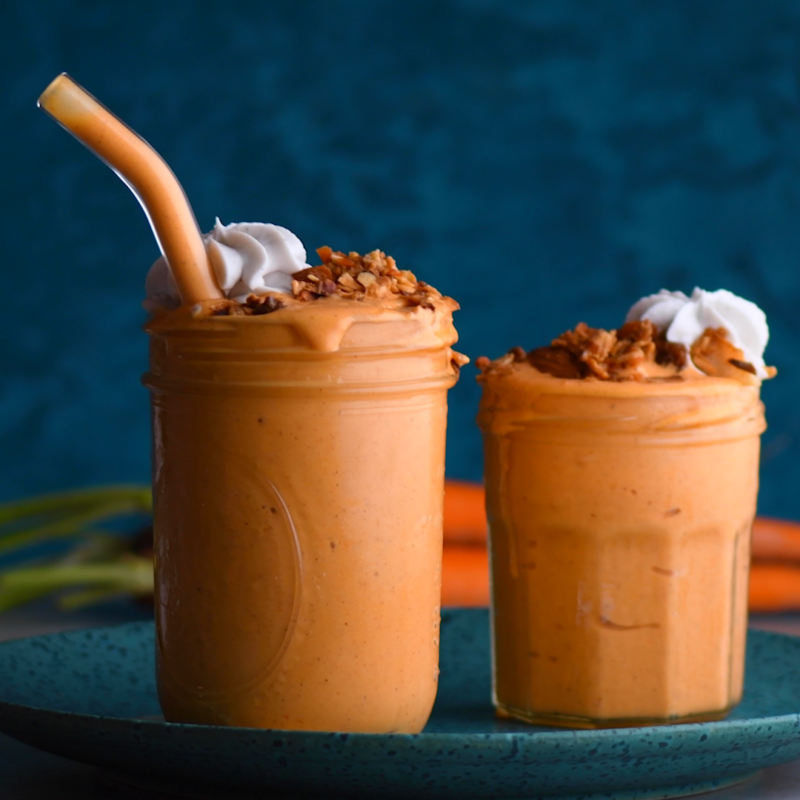 Nutrition Information
No nutritional info available at this time
Ingredients
For the carrots
2 cups fresh carrots, chopped
1 tablespoon olive oil
2 tablespoons honey
1 teaspoon cinnamon
For the smoothie
1½ cups Almond Breeze Unsweetened Vanilla Almond Beverage
1 cup carrots, frozen
1 cup frozen pineapple
¼ teaspoon fresh ginger
1 date, pitted
Pinch of salt (optional)
For the "frosting"
2 tablespoons coconut cream
1 teaspoon vanilla
Directions
Place sliced carrots on a sheet tray. Toss to coat with olive oil, honey, and cinnamon and roast for 40 min at 350F, until tender and caramelized. Transfer onto parchment and freeze until solid. Transfer to a storage bag once frozen, if desired.
Blend together Almond Breeze Unsweetened Vanilla Almond Beverage, frozen honey roasted carrots, frozen pineapple, fresh ginger, a date, and a pinch of salt until smooth.
Stir together coconut cream and vanilla until smooth and creamy. Pipe onto smoothie and top with granola, if desired.
Made With These Almond Breeze® Products
Looking For Almond Breeze®?