Berry Banana Smoothie Bowl
Nutrition Information
| Nutrient name | Nutrient weight per serving |
| --- | --- |
| Total Carbohydrates | 23g |
| Dietary Fiber | 4.6g |
| Sugars | 12.3g |
| Sodium | 57.6mg |
| Protein | 1.8g |
| Potassium | 422.4mg |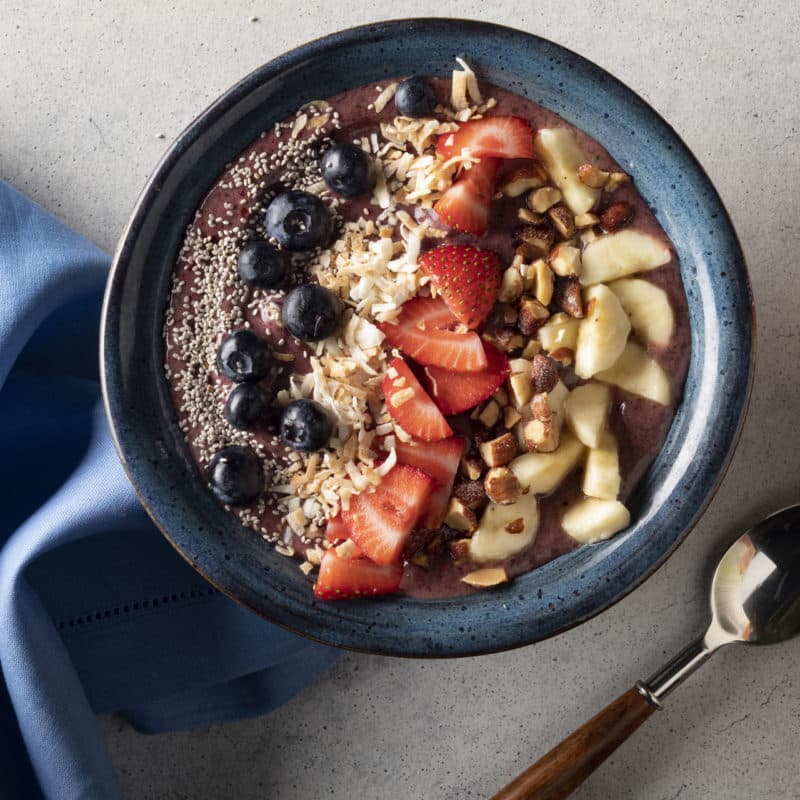 Berry Banana Smoothie Bowl
Nutrition Information
| Nutrient name | Nutrient weight per serving |
| --- | --- |
| Total Carbohydrates | 23g |
| Dietary Fiber | 4.6g |
| Sugars | 12.3g |
| Sodium | 57.6mg |
| Protein | 1.8g |
| Potassium | 422.4mg |
Ingredients
1/2 cup Almond Breeze Unsweetened Vanilla Almond Beverage
1 cup spinach
1 cup frozen mixed berries
1 frozen banana
Toppings: Fresh berries, banana slices, toasted coconut, almonds, chia seeds, coconut granola
Directions
Add the almond beverage, spinach, berries, and banana to the blender. Blend until smooth.
Pour into a bowl and top with desired toppings. I like to use fresh berries, banana slices, toasted coconut, almonds, chia seeds, and granola. Eat with a spoon and enjoy!
Made With These Almond Breeze® Products
Looking For Almond Breeze®?